Ogawa, K.
Yoshiwara, A Nightless Quarter, Tokyo, K. Ogawa, 1910, 8vo, 18 hand-colored collotypes on crepe paper, bound Japanese style and tied with purple twisted silk cords, 10 unsevered leaves (20 pages in total) of text and images and covers. Covers are soft crepe paper with printed design that has been hand colored. The first page is a description of the Yoshiwara in Tokyo. The back of this page is blank. The other 9 pages have a hand colored collotype photograph - front and back. The leaves have a paper sheet behind them to provide support. The book is a pictorial depiction of the Yoshiwara (red light district) of Tokyo. The pictures are not, however, risque.

In the two 18 collotype books I have examined the images are the same. However, the sequence of the folded leaves varied.

The book is in a horizontal format and measures 10 1/4 x 7 1/2 in - 26.1 x 19 cm. While the picture areas vary slightly, the norm is 6 3/4 x 5 1/2 in - 17 x 14 cm.

Wenckstern records a book with almost the same title in these terms:
Ogawa, K., The Yoshiwara, a nightless quarter, 15 plates, oblong 4to., Tokyo, 1902, (Yen 1.50 sen).
For information on Kazumasa Ogawa, click here.

Yoshiwara, A Nightless Quarter, 1910, K. Ogawa


Descriptive Text Page


Yoshiwara, A Nightless Quarter, 1910, K. Ogawa

"The Modernized Entrance to the Ancient Quarter of Yoshiwara."
"The guests arriving at a tea-house from which they are conducted to the House of the Sisters of Delilah."


"The Main Street during the cherry season."


"The Sumicho, one of the principal streets lined with the Houses of the Sisterhood."


"Parading in full style with her equipage of a man-servant and a small girl who carries the smoking utensils."


"The Three most popular of the profession."


"Is the coast clear?"


"Toilet, Letter-writing, Reading."


"The Sisters in full dress are formally introduced to the guests of the evening."


"Going downstairs to say sayonara (au revoir)."


"The Horaiya, one of the Houses of the Sisterhood. The portraits exhibited are those of the inmates."


"1st Section of Kyo-machi St."


"The Sisters on exhibition."


"The guest arriving at the House of his objective exhorted by the maid of the tea-house, the geishas, and a professional clown."


"The clown displaying his art."


"The Sister's Private Room."


"The concert of the evening."


"The Fair Dancers entertaining the guest of the evening."

Dating the book.
Colophon (Rear of Book)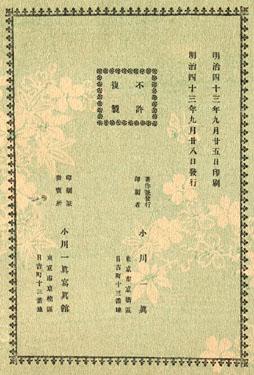 The two rows of characters at the far right indicates a printing date of September 24, 1910 (Meiji 43) and distribution date of September 28, 1910 (Meiji 43).