"The Three most popular of the profession. Miss Tsurno, Miss Takao, Miss Shiranni" -- Hand-Colored Collotype on Crepe Paper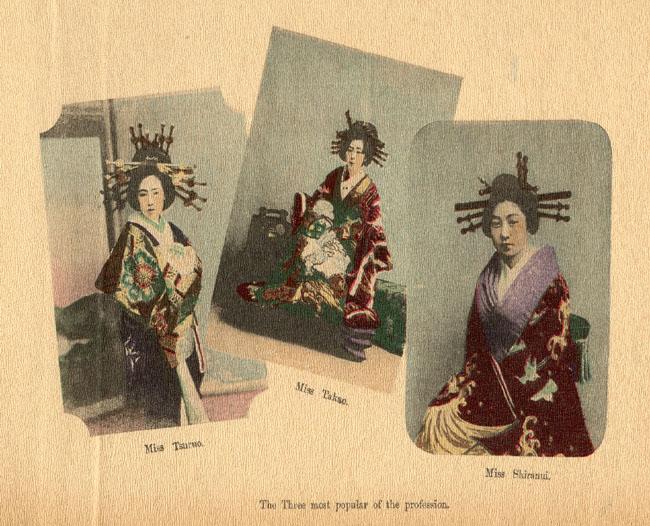 Ogawa, K.
Yoshiwara, A Nightless Quarter, Tokyo, K. Ogawa, 1910, 8vo, 18 hand-colored collotypes printed directly on crepe paper, bound Japanese style and tied with purple twisted silk threads, 10 unsevered leaves (20 pages in total). Covers are soft crepe paper with printed design that has been hand colored. The book is accompanied by a hard cardboard folder type case that has been hand painted also. This is one in a series of photographic album type books under this same title published by K. Ogawa. There are a total of 10 unsevered leaves. The first page is a description of the Yoshiwara district in Tokyo. The back of this page is blank. The other 9 pages have a hand colored collotype photograph - front and back. The leaves have a paper sheet behind them to provide support. The book is a pictorial depiction of the Yoshiwara (red light district) of Tokyo. The pictures are not, however, risque.
The book is in a horizontal format and measures 10 1/2 x 7 1/2 in - 26 1/2 x 19 cm. While the picture areas vary slightly, the norm is 6 3/4 x 5 1/2 in - 17 x 14 cm.
For information on Kazumasa Ogawa and his collotype books, click here.
For information on collotype photographs, click here.