"A Vegetable Dealer" -- Hand-Colored Collotype on Crepe Paper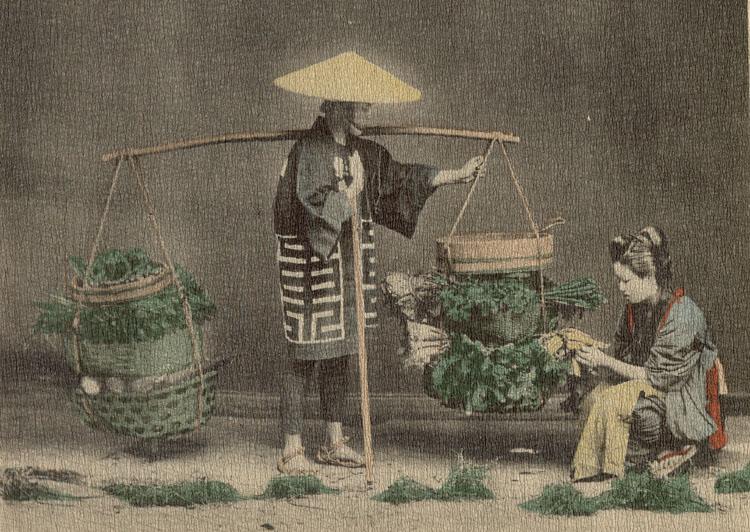 Ogawa, K.
Takashima, S (descriptions):
Illustrations of Japanese Life, Tokyo, K. Ogawa, descriptions by S. Takashima, 1918, 12th edition, 8vo, 12 hand-colored collotypes on crepe paper, bound Japanese style and tied with purple twisted silk threads, 7 unsevered pages (14 pages in total). This is one in a series of photographic album type books under this same title published by K. Ogawa. There are a total of 7 unsevered leaves. The first has the Title Page (front) and Preface (back). The other 6 have a photograph - front and back. The leaves have a paper sheet behind them to provide support. The focus of this book is trades and industries of Japan. The photographs include, 1) carpenters, 2) a porcelain ware shop, 3) a vegetable dealer, 4) a toy shop, 5) rice planting, 6) farmers in rice swamp, 7) vegetable dealer's shop, 8) "Hakimono" clogs, 9) farmers in a yard, 10) the "Kago", 11) the "Hatsuni" and 12) an ox cart. The book is in a horizontal format and measures 10 1/4 x 7 1/2 in - 26 x 19 cm. While the picture areas vary slightly, the norm is 7 x 5 1/2 in - 17.8 x 13.4 cm.
I find these books are hard to date as there is no publication date in English. I have concluded the book was published in 1918 from a Japanese language section found on the inside of the back cover. For more information on this click here
For information on Kazumasa Ogawa, click here.