K. Ogawa Photographs
Real Picture Postcards
Imperial Railways of Japan
Set Number 6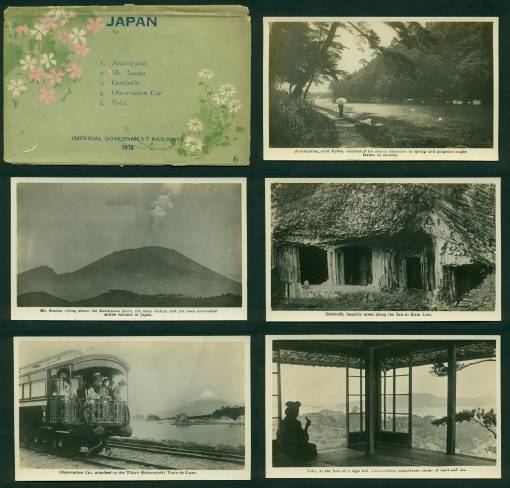 Click here for larger a picture.
---
---

Real Picture Post Cards in Set Number 6.
1. Arashiyama
2. Mt. Asama
3. Gembudo
4. Observation Car
5. Toba


Sets of five real picture post cards were issued in folders with floral design. At the top is "Japan." This is followed by the views (numbered 1-5) in the folder. Below that is "Imperial Government Railways, 1918." At the bottom right is the series number.
On the message side card of each card it states "Photo. K. Ogawa" at the bottom left and "Issued by the Imperial Government Railways of Japan" at the upper left. The image side of the card is printed in black and white but is not collotype printing. Below the image is a descriptive title. The individual picture post cards are not numbered.


Confirmed postcards.


Set 2
1. Ama-no-hashidate, 
2. Karuizawa, 
3. Marriage Ceremony, 
4. Miyako Odori (Cherry Dance)
5. Yoshino

Set 3
1. Kasuga Shrine
2. Ikebana
3. Nagoya Castle
4. Maiko-no-hama
5. Miyanoshita

Set 5
1. Horyu-ji
2. Present Day Costumes
3. Satta Toge
4. Onuma Koen
5. Itsukushima Shrine

Set 6
1. Arashiyama
2. Mt. Asama
3. Gembudo
4. Observation Car
5. Toba

Set 8
1. Feast of Dolls
2. Sleeping Car
3. Nara Hotel
4. River Tenryu
5. Matsushima

Set 9
1. Tokyo Station, 
2. Aoi-matsuri,
3. Landscape Garden, 
4. Great Statute of Buddha
5. Unzen Hot Spring

Set 10
1. Irises
2. Port of Yokohama
3. Yabakei
4. Lake Ashi
5. Uneo

Set undetermined.

Kagon Waterfall
Choin, Kyoto
Lake Biwa
Nikko Shrine
Evening on the Kamo River
Nihonbashi