~~ Book 1901230627~~
Published by T. Hasegawa

Calendar for 1902
The Landscapes of Japan


Condition. The book is in Very Good condition. The spine covering is slightly eroded with ca 10% broken. The internal pages are clean and free of writing, foxing or stains. There is light foxing on the front and back covers and the covers have moderate creasing. None of the pages are cut or broken at the folded edge.

Hasegawa, T. (Takejiro)
Calendar for 1902, The Landscapes of Japan, T. Hasegawa, Tokyo (10 Hiyoshicho, Tokyo), 1901, small 16mo (3 7/8 x 5 3/8 in - 9.2 x 13.5 cm), small size for a Hasegawa book, calendar published in a book form, spine covered, silk stab ties, 8 folded crepe paper pages, 16 pages total including covers. The page inside the front cover is blank except for the Hasegawa imprint. Inside the back cover is the Japanese language colophon.
The subjects of the woodblocks are:
January - "Matsushima on New Year's Day, Osaka" (page to right)
February - "The Shinto Shrine of Inari, Kyoto."
March - "The Plum Garden, Mukojima, Tokyo."
April - "Cherry-trees in Blossom at Arashiyama, Kyoto."
May - "The Shrine of Tenjin, Kameido, Tokyo."
June - "The Iris Garden, Horikiri, Tokyo."
July - "Lotus Pond in the Uyeno Park, Tokyo"
August - "Summer-days on the Ajikara, Osaka"
September - "Lake Biwa in the Moon-light, Omi"
October - "Chrysanthemums in the Prairie of Sage, Kyoto."
November - "The Temples on Sarusawa pond, Nara.."
December - "The Sumida River under Snow, Tokyo."
Except for the change of the year from 1902 to 1903 and a slightly different colophon,identical calendar was published for 1903 with the same images (see here). The 1903 version was slightly larger.
For more information on T. Hasegawa, click here.
All Pages



















Close up of the Colophon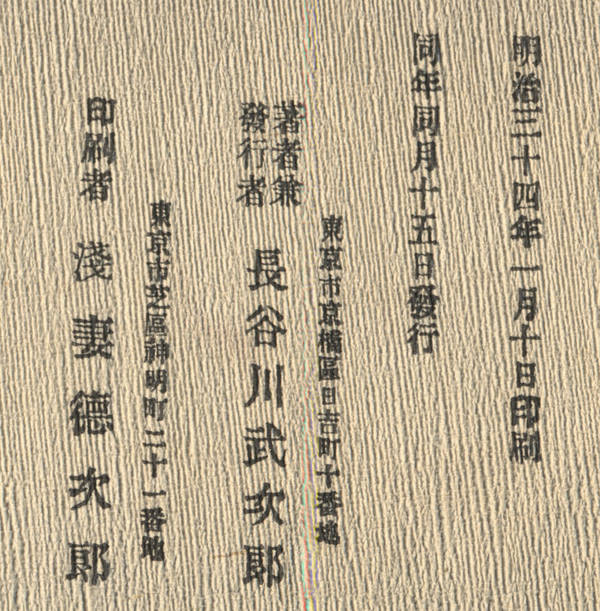 (1st column from the right): Meiji 34 (1901).1.10
(2nd column from the right): Meiji 34 (1901).1.15 (publication date)
T. Hasegawa, 10 Hiyoshicho, Tokyo