~~ Book 1904191101 ~~
A Leaf From the Diary of a Young Lady
Kozaburo Tamamura, c1904
24 Hand Colored Collotype Plates from Photographs


Condition. The book is in Very Good+ condition. The boards are undecorated cloth. The silk tie is solid but loosly tied. There is light rubbing at the edges. Internally there is minor foxing. Most of the foxing is on the back of the plates and none actually in the image area. As noted below, five of the plates have the image rotated 180 degrees from the images below.
Tamamura Kozaburo
Takagi Teijiro:
A Leaf From the Diary of a Young Lady, Yokohama, Tamamura, c1904~c1916, oblong 8vo (10 x 7 1/4 in), black with gold floral/leaf pattern covers, cloth covered boards (decorated and plain), oblong 8vo (10 1/2 x 7 in - 24.2 x 19 cm), 24 pp. This book is composed of 24 hand colored collotype plates from photographs by Tamamura. Each plate has an English explanation of what it depicts. The images follow Miss "Tokimatsu" through a day. They start with receipt of a letter inviting her to a social event at a friend's home - dressing and preparing (several Kimono views) - arriving at the event (a tea) - the actual "tea ceremony" - playing the koto - drinking sake - return home in a jinrikisha - disrobing (several views of the kimono coming off but no nudity, shucks) - eating supper, smoking a pipe, going to sleep and dreaming of her "hero." The collotypes pages measure 7 x 9 1/2 inches. The image areas vary slightly but measure 4 1/4 ~ 4 1/2 x 5 1/2 ~ 6 inches. The collotypes are protected with tissue guards. There is no colophon. Kozaburo Tamamura (1856-1923?) was a foremost Japanese photographer.

The book has been confirmed with two slightly different title pages. The first has floral pattern decoration at the upper left and has the "K. Tamamura" imprint. To see this title page, click here. The second does not have the Tamamura imprint and has no decoration. To see this title page, click here.

The book was produced and marketed with and without the Tamamura imprint. While I have not seen the book, I have seen it listed and attributed to his successor, Takagi. I do not know if that book had the Takagi imprint.

The book was marketed with decorated cloth boards as well as plain cloth boards.

In the books I have examined some of the plate images are reversed (flipped 180 degrees on the horizontal axis). These are:
Plate 7. Departing with Umbrella
Plate 9. Tea Ceremony ("Chanoya")
Plate 10. Playing the Koto
Plate 21. A Smoke Before Retiring
Plate 23. Sleeping
For more information on Kozaburo Tamamura, click here.
This book has the title page with the "K. Tamamura" imprint.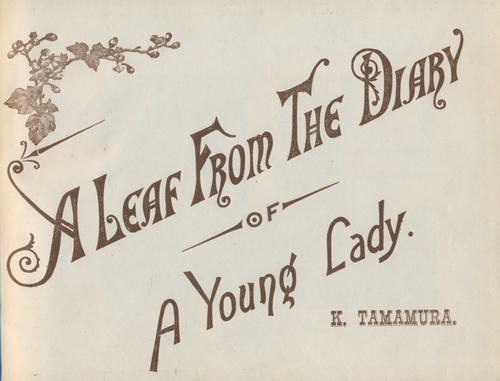 A Leaf From the Diary of a Young Lady,
Tamamura, Kozaburo, c1904

The Letter Box [1].
Reading the Letter [2].
Preparing her "Toilet" [3].
Maid Helps Dress Hair [4].
The Obi [5].
Looking at Her Obi [6].
Departing with Umbrella [7].
Arrival at Friend's House [8].
Tea Ceremony ("Chanoya") [9].
Playing the Koto [10].
Drinking Sake [11].
Home in a Jinrikisha [12].
Arriving Home [13].
Greeting "Okaerinasai" [14].
Disrobing [15].
Taking the Obi Off [16].
Maid Folding the Obi [17].
Changing Dress [18].
Supper [19].
The Futon (Bed) [20].
A Smoke Before Retiring [21].
Reading in Bed [22].
Sleeping [23].
Dreaming of Her Hero [24].
Twenty Four (24) Hand Colored Collotype Photographs, protected by tissue guards.
Titles are my summary. For full title and descriptive text click on the thumbnail picture.
Page size. 7 x 9 1/2 inches
Image Size. 4 1/4 ~ 4 1/2 x 5 1/2 ~ 6 inches