Tamamura, Kozaburo (presumed):
Geo. H. Macy & Co., Japan and China, c1910, oblong 8vo (8 1/2 x 6 in), straw covered boards with hand painted illustrations on front board, single silk tie, spine covered, 30 pages of black and white collotype plates reproducing photographs, no tissue guards, 30 pp. The image areas vary but measure 4 1/2 x 3 1/2 inches and larger. Below each image is a brief descriptive caption. There are no text pages, title page or colophon and the publisher or printer is not stated. This book is a pictorial review of the various tea production act ivies of the George H. Macy Company in Japan and China. It covers that company's operations in Japan (Kobe & Yokohama) and China (Shanghai, Taiphei Formosa, Hankow & Amoy). It also includes general interest, not tea related, views of Japan.
While the book is undated, I believe that it dates from the early 1900s based upon the images. Some images appear to be from the late 1890s.
No publisher is stated. However, this book is very similar in nature to the same types of collotype books produced by T. Tamamura of Yokohama and his successor T. Takagi of Kobe. Three images in this book are found in similar T. Tamamura books (see below). Information on the Tamamura and Takagi books is here.

All 30 Black and White Collotype Plates.




"Afternoon Tea," in Japan



Tea Garden, in Uji District, Japan



Tea Premises of Geo. H. Macy & Co., Kobe, Japan



Office and Sifting Floors, Geo. H. Macy & Co., Kobe, Japan



Buying and Inspecting Room, Geo. H. Macy & Co., Kobe, Japan



Tea Firing Room, Geo. H. Macy & Co., Kobe, Japan



Warehouse, Geo. H. Macy & Co., Kobe, Japan



Tea Garden, Shidzuoka District, Mount Fuji (12365) in the Distance



Machine Tea-Firing Plant, Geo. H. Macy & Co., Yokohama, Japan



Tea-Firing Room, Geo. H. Macy & Co., Yokohama, Japan



Warehouse, Geo. H. Macy & Co., Yokohama, Japan



Skilled staff, Geo. H. Macy & Co., Yokohama, Japan



Drying Boxes, Geo. H. Macy & Co., Yokohama, Japan



Shinto Temple, Nikko, Japan



Office of Geo. H. Macy & Co., Shanghai, China



Tea Room, Geo. H. Macy & Co., Shanghai, China



An Afternoon Call



Office (Warehouses in the rear), Geo. H. Macy & Co., Hankow, China



Scene in Hankow, Coolies carrying Tea



Nara, Japan



Tea Premises of Geo. H. Macy & Co., Amoy, China



Tea Premises of Geo. H. Macy & Co., Amoy, China


Japanese Tea Pickers



Foreign Buyer's Residence, Geo. H. Macy & Co., Taipeh, Formosa



Foreign Buyer, and Skilled Staff, Geo. H. Macy & Co., Taipeh, Formosa



The Tea Room, Geo. H. Macy & Co., Taipeh, Formosa



Interior of Warehouses, Geo. H. Macy & Co., Taipeh, Formosa



Showing an Entrance to Geo. H. Macy & Co., Taipeh, Formosa



Showing Tea Inspection Window, Geo. H. Macy & Co., Taipeh, Formosa



A Japanese Cargo Junk





Similar images in this book and Tamamura/Takagi collotype books.

This Book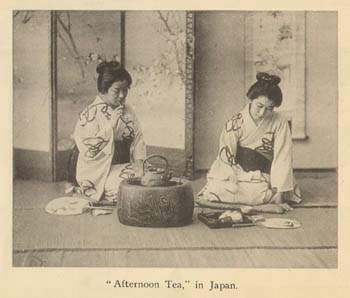 T. Tamamura, Japanese Views and Characters, Vol. II
(Yokohama, Kamakura, Fuji and Nagoya), c1910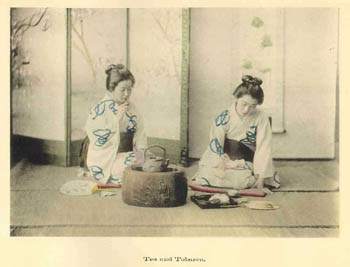 T. Tamamura, A Leaf From the Diary of a Young Lady, c1904

T. Tamamura, Japanese Views and Characters, Vol. I
(Kyoto, Nara, Osaka, Kobe and Nagasaki), c1910