Brown Cover Edition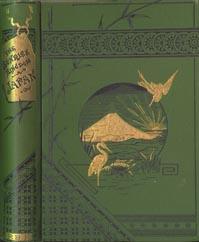 Brown and Blue Covers Confirmed

Carrothers, Julia D.:
The Sunrise Kingdom: or, Life and Scenes in Japan, and Woman's Work for Woman There, Philadelphia, Westcott & Thompson for the Presbyterian Board of Publication, 1879, brown cloth boards (or blue cloth boards), front cover and spine embossed and with gilt and black decoration (Mt. Fuji, a crane, the setting sun in gold), large 12mo (5 1/2 x 7 1/2 in - 14 x 19 cm), 408 pp. The back cover has the same embossed design as the front but no color has been added. This book covers the period from August of 1869 through February of 1877 from the perspective of a female Presbyterian missionary in Japan. It is primarily a narrative of the stay in Tokyo and the focus is on religion, women and children and every day life of the Japanese. An interesting extended record (7+ years) of Japanese culture by an American who arrived less than 16 years after Perry opened Japan to Americans. The book is illustrated with 17 full page (15 in book with blue boards) woodcut engraving plates.
Chapters.

Book I
I.     "O-Hay-O"
II.    A Look at the People
III.   Summer Days in Yokohama
IV.    A Winter in Tokio
V.     Home and School
VI.    Going to "See Flowers"
VII.   Ro-Lu-Ban
VIII.  Pictures and Books
IX.    Games and Toys
X.     What Little Children Read
XI.    A Journey from Tokio to O-Da-Wa-Ra
XII.   On to Hakones
XIII.  Pilgrims on Fu-ji

Book II.
I.     An Open Door
II.    Midsummer Holidays
III.   The Gospel in Japanese
IV.    Loaves and Fishes
V.     The Holy Spirit Alone
VI.    Christmas at Ro-Ku-Ban
VII.   The "Peep of Day"
VIII.  The Woman at the Well

Book III.
I.    "The Churches of Asia Salute You"
II.   Eno-Shima
III.  The Strait Gate and the Narrow Way
IV.   A Jin-Ri-Ki-Sha Journey
V.    The Two Capitals in 1875
VI.   "The Poor have the Gospel Preached to Them"
VII.  Coming into the Kingdom
VIII. "Our Father Which Art in Heaven"
IX.   Little Children
X.    The Hem of the Garmet

Book IV.
I.    Women's Work for Women
II.  "The Christian's Shining Light"
III.  The Regions Beyond
IV.  "The Lord Showed Him All the Land"
V.    Sai-O-Na-Ra


While book is organized in "Books," this is merely a divise to provide main headings for groupings of chapters.

Illustrations - full page plates* (17 in Red Cover Edition, 15 in Blue Cover Edition).

Wayside Tea-House (frontispiece)

Coolies/Buddhist Priest/Samurai (Pages 27, 28 & 29)

The Seven Happy Gods (Page 33)




Niphon Bashi (Page 53)

Teeth-Brushing/Old Man at Well (Page 61)

Japanese Kitchen (Page 62)

Various Kitchen Utensils (Page 64)

Writing a Copy / Sweeping and Dusting (Page 67)

Japanese Hotel (Page 83)

Casting Out Evil Spirits / Writing the New Year's Copy (Page 113)

Various Drawings of Children (Page 118)

Pilgrims (Page 147)


A Jinrikisha -- Only in Brown Cover Edition (Page 164)

Rokuban (Page 177)

Dai Butsu (Page 230)


Tokio Woman / Kioto Woman (Page 261)

Mother and Child -- Only in Brown Cover Edition (Page 295)
* Illustrations/plates are woodcut engravings on thick stock paper. They are printed on one side only. Each plate has a number which indicates the text page it is to be bound in opposite.




Blue Cover Edition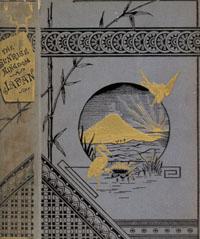 Red Cover Edition