Tajima Shiichi (editor)
Masterpieces Selected from the Maruyama School, Shimbi Shoin, Tokyo, 1909 (Meiji 42), Volume I and II of a two volume set, folio (13 1/2 x 19 1/2 in - 34.2 x 49.5 cm), silk covered boards with a woodblock illustration on the front board, edges beveled, spine covered in decorated silk cloth, purple silk ties, title in English in gilt on front board, top and bottom page edges in gilt, text in English, 101 plates (36 color woodblock and 65 black and white collotype), 9 text pages (thin paper folded).

   Volume I.   51 plates - 17 color woodblock and 34 black and white collotype
   Volume II.  50 plates - 19 color woodblock and 31 black and white collotype
              101 plates - 36 color woodblock and 65 black and white collotype

According to Shimbi Shoin catalogues "Regular" and "De Luxe" editions were issued. No limitation statement indicating the number of the set out of total sets printed or text indicating the edition (Ordinary or De Luxe).
The color woodblock plates are tipped to page and most appear to be printed on silk (versus paper). The black and white collotype plates are printed directly onto the plate. The book has two fold out color plates (78 and 79). These both have three folds out and have tipped on color woodblock prints with image areas over 2 1/2 feet.
The books were issued with a straw textured wrap-around case with ivory type clasps.
Books with this title were issued in this two volume set and later in a one volume set. In a ca 1910 catalogue, the Shimbi Shoin described this publication as a 2 volume set with about 100 plates issued in "Edition de luxe" and "Ordinary Edition." A 1922 catalogue lists the publication as one volume with 58 plates of which 38 were color.
The following artists of the Maruyama School are discussed and their art reproduced: Senrei (Okyo), Mondo (Okyo), Okyo, Rosetsu, Genki, Nangaku, Bummei, Kokei and Tessan.
This set
Text Pages
(9 pages in volume I)


Title Pages






Plates

(36 Color 65 Black and White Collotype)
 
Volume  I.

1.  Flying Geese  By Senrei (Okyo)


2.  Pine-tree and Cranes  By Mondo (Okyo)


3.  Sobu  by Okyo
4.  Sobu  by Okyo

5.  Wild Geese on Waves  by Okyo


6.  Misfortunes  by Okyo
7.  Misfortunes  by Okyo

8.  Misfortunes  by Okyo


9.  Waterfall  by Okyo


10. Landscape in Storm  by Okyo

11. Foliage  by Okyo


12. Two Hermits playing Checkers  by Okyo


13. Peacock  by Okyo


14. Sketches from Nature  by Okyo

15. Sketches from Nature  by Okyo


16. Sketches from Nature  by Okyo

17. Hotei  by Okyo


18. Waterfall  by Okyo

19. Dragons  by Okyo


20. Dragons  by Okyo


21. Tame Geese  by Okyo


22. Wild Geese and Mandarin Ducks  by Okyo


23. Wild Geese and Mandarin Ducks  by Okyo


24. Landscapes  by Okyo
25. Landscapes  by Okyo

26. Pine-trees in the Snow  by Okyo


27. Pine-trees in the Snow  by Okyo


28. Kakushige and His Family   by Okyo

29. Tiger  by Okyo


30. Bamboo Groves  by Okyo
31. Bamboo Groves  by Okyo

32. Cock and Hen  by Okyo


33. Carp  by Okyo
34. Carp  by Okyo

35. Kwannon  by Okyo


36. Landscaptes and Human Figures  by Okyo

37. Landscaptes and Human Figures   by Okyo


38. Landscaptes and Human Figures  by Okyo

39. Landscaptes and Human Figures  by Okyo


40. Landscaptes and Human Figures  by Okyo

41. Carp  by Okyo


42. Kanzan and Jittoku  by Okyo


43. O Gishi  by Okyo


44. Waterfall  by Okyo
45. Pine-trees by the Sea-shore  by Okyo

46. Onono Komachi  by Okyo


47. Pine-tree  by Okyo
48. Landscapes  by Okyo
49. Landscapes  by Okyo

50. Wild Goose under the Moon  by Okyo


51. Night Scene River Kamogawa   by Okyo


17 color, 34 black & white collotype
All color plates are shown above


Volume II.

52. Plum-tree  by Okyo


53. The Four Sleepers  by Okyo


54. Cock and Hen with Chickens under Plum-tree  by Okyo


55. Puppies under Plantain  by Okyo


56. Hermits  by Okyo

57. Monkey-trainer  by Okyo


58. Parrot on a Pine-tree  by Okyo


59. Cranes  by Okyo
60. Cranes  by Okyo

61  Tigers  by Okyo


62. Waterfalls in Sprin and Autumn  by Okyo

63. Landscapes in the Snow  by Okyo


64. Landscapes in the Snow  by Okyo
65. Landscapes in the Snow  by Okyo
66. Landscapes in the Snow  by Okyo

67. Waterfall  by Okyo


68. O Gishi  by Okyo


69. Carp Swimming up the Waterfall  by Okyo
70. Landscape  by Okyo

71  Seven Sages in the Bamboo Groves by Okyo

72. Waterfall and Landscapes  by Okyo


73. Waterfall and Landscapes  by Okyo
74. Waterfall and Landscapes  by Okyo
75. Pine-trees and Peacocks  by Okyo

76. Pine-trees and Peacocks  by Okyo


77. Pine-trees and Peacocks  by Okyo

78. Views on the River Hozu, near Kyoto  by Okyo

3 folds out - image area 10 7/8 x 31 in - 27.5 x 80.5 cm

79. Views on the River Hozu, near Kyoto  by Okyo

3 folds out - image area 10 7/8 x 31 in - 27.5 x 80 cm

80. Peoneis  by Rosetsu


81. Flowers and Birds  by Rosetsu
82. Ro-gyosha, Sixth Patriarch of Zen Sect  by Rosetsu
83. Flowers and Birds  by Rosetsu
84. Carp  by Rosetsu

85. The Three Laughers at Kokei  by Rosetsu


86. Morning Glories and Sparrows  by Rosetsu


87. Sparrows and Puppies  by Rosetsu


88. Sparrows and Puppies  by Rosetsu


89. Crows in the Snow  by Rosetsu

90. Hermitess and Her Son  by Rosetsu


91. Lady Han-hi  by Genki


92. Lady Yoki-hi  by Genki


93. Asazuma-bune  by Genki


94. Beauty and a Cat  by Soken


95. Beauty and Skull  by Nangaku


96. Mandarin Ducks  by Bummei


97. Pine-trees and Deer in the Snow  by Kokei

98. Beauty  by Tessan


99. Peacock  by Tessan


100. Peacock  by Tessan

101. Peacock  by Tessan


19 color, 31 black & white collotype
All color plates are shown above



Listing of Plates (above repeated but with no illustrations)


Volume I.

1.  Flying Geese                     By Senrei (Okyo)
2.  Pine-tree and Cranes             By Mondo (Okyo)
3.  Sobu                             by Okyo
4.  Sobu                             by Okyo
5.  Wild Geese on Waves              by Okyo
6.  Misfortunes                      by Okyo
7.  Misfortunes                      by Okyo
8.  Misfortunes                      by Okyo
9.  Waterfall                        by Okyo
10. Landscape in Storm               by Okyo
11. Foliage                          by Okyo
12. Two Hermits playing Checkers     by Okyo
13. Peacock                          by Okyo
14. Sketches from Nature             by Okyo
15. Sketches from Nature             by Okyo
16. Sketches from Nature             by Okyo
17. Hotei                            by Okyo
18. Waterfall                        by Okyo
19. Dragons                          by Okyo
20. Dragons                          by Okyo
21. Tame Geese                       by Okyo
22. Wild Geese and Mandarin Ducks    by Okyo
23. Wild Geese and Mandarin Ducks    by Okyo
24. Landscapes                       by Okyo
25. Landscapes                       by Okyo
26. Pine-trees in the Snow           by Okyo
27. Pine-trees in the Snow           by Okyo
28. Kakushige and His Family         by Okyo
29. Tiger                            by Okyo
30. Bamboo Groves                    by Okyo
31. Bamboo Groves                    by Okyo
32. Cock and Hen                     by Okyo
33. Carp                             by Okyo
34. Carp                             by Okyo
35. Kwannon                          by Okyo
36. Landscaptes and Human Figures    by Okyo
37. Landscaptes and Human Figures    by Okyo
38. Landscaptes and Human Figures    by Okyo
39. Landscaptes and Human Figures    by Okyo
40. Landscaptes and Human Figures    by Okyo
41. Carp                             by Okyo
42. Kanzan and Jittoku               by Okyo
43. O Gishi                          by Okyo
44. Waterfall                        by Okyo
45. Pine-trees by the Sea-shore      by Okyo
46. Onono Komachi                    by Okyo
47. Pine-tree                        by Okyo
48. Landscapes                       by Okyo
49. Landscapes                       by Okyo
50. Wild Goose under the Moon        by Okyo
51. Night Scene River Kamogawa       by Okyo


Volume II.

52. Plum-tree                        by Okyo
53. The Four Sleepers                by Okyo
54. Cock and Hen with Chickens
      under Plum-tree                by Okyo
55. Puppies under Plantain           by Okyo
56. Hermits                          by Okyo
57. Monkey-trainer                   by Okyo
58. Parrot on a Pine-tree            by Okyo
59. Cranes                           by Okyo
60. Cranes                           by Okyo
61  Tigers                           by Okyo
62. Waterfalls in Sprin and Autumn   by Okyo
63. Landscapes in the Snow           by Okyo
64. Landscapes in the Snow           by Okyo
65. Landscapes in the Snow           by Okyo
66. Landscapes in the Snow           by Okyo
67. Waterfall                        by Okyo
68. O Gishi                          by Okyo
69. Carp Swimming up the Waterfall   by Okyo
70. Landscape                        by Okyo

71  Seven Sages in the Bamboo Groves by Okyo
72. Waterfall and Landscapes         by Okyo
73. Waterfall and Landscapes         by Okyo
74. Waterfall and Landscapes         by Okyo
75. Pine-trees and Peacocks          by Okyo
76. Pine-trees and Peacocks          by Okyo
77. Pine-trees and Peacocks          by Okyo
78. Views on the River Hozu,
     near Kyoto                      by Okyo
79. Views on the River Hozu,
     near Kyoto                      by Okyo
80. Peoneis                          by Rosetsu
81. Flowers and Birds                by Rosetsu
82. Ro-gyosha, Sixth Patriarch of
     Zen Sect                        by Rosetsu
83. Flowers and Birds                by Rosetsu
84. Carp                             by Rosetsu
85. The Three Laughers at Kokei      by Rosetsu
86. Morning Glories and Sparrows     by Rosetsu
87. Sparrows and Puppies             by Rosetsu
88. Sparrows and Puppies             by Rosetsu
89. Crows in the Snow                by Rosetsu
90. Hermitess and Her Son            by Rosetsu
91. Lady Han-hi                      by Genki
92. Lady Yoki-hi                     by Genki
93. Asazuma-bune                     by Genki
94. Beauty and a Cat                 by Soken
95. Beauty and Skull                 by Nangaku
96. Mandarin Ducks                   by Bummei
97. Pine-trees and Deer in the Snow  by Kokei
98. Beauty                           by Tessan
99. Peacock                          by Tessan
100. Peacock                         by Tessan
101. Peacock                         by Tessan

Total of 101 Plates, 36 color and 65 black and white collotype

Colophon, Volume I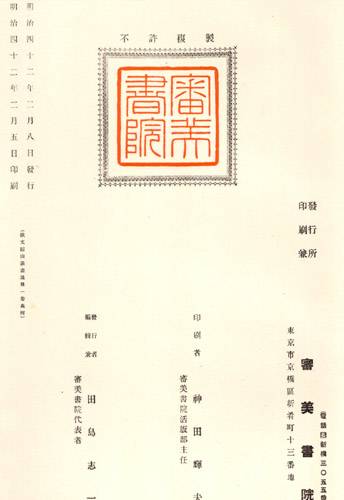 Printed: Meiji 42 (1909).2.5
Published: Meiji 42 (1909).2.8

Colophon, Volume II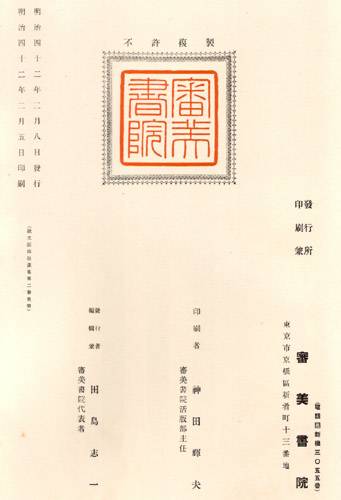 Printed: Meiji 42 (1909).2.5
Published: Meiji 42 (1909).2.8