The Hot Springs of Japan (and the Principal Cold Springs)
Japanese Government Railways, 1922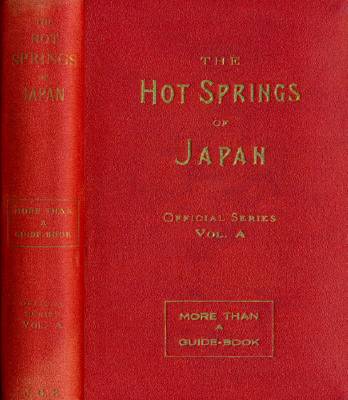 Japanese Government Railways
deg Garish, Frederic (Director of Publicity and Editor-in-Charge of English Editions of Guide-Books, etc.):
The Hot Springs of Japan (and the Principal Cold Springs) Including Chosen (Korea), Taiwan (Formosa), South Manchuria, Together with many Tables giving Classification, Chemical Basis, Curative Values, Radio-Activity, etc, 196 Illustrations, 15 Maps, Specially Drawn, 2 Colored Lithographs, Official Series, Vol. A, issued th the Japanese Government Railways, Tokyo, Japan, printed at the Tokyo Tsukiji Type Foundry, 1922, 18 mo (4 1/2 x 6 1/3 in - 11.8 x 16 cm), flexible red cloth with gilt lettering on front cover and spine, dust jacket (red with black lettering), cardboard slip case with title on spine, edges marbled, ribbon page marker, color lithograph facsimiles of woodblock prints on pasted downs and free papers at front ant back, 15 color maps (most fold out), 196 illustrations (predominately half-tone), xviii, 426 pp plus a two page Addendum. Nine of the maps are folding and printed in color. The other 6 are black and white and one page or a part of a page. This book does not have a map or map pocket at the rear as some of the other books in this series.
It is important to note that this book was published in October in 1922. On September 23, 1923 the Great Kanto earthquake devastated the Yokohama and Tokyo area. It is quite likely that the major stocks of the book were in the area most impacted by the earthquake and that few survived. This book is seldom seen and that is probably the reason. The copies in existence were probably brought out of Japan by returning tourists during the ca 12 month period between publication and the earthquake.

Title Page & Collotype Frontispiece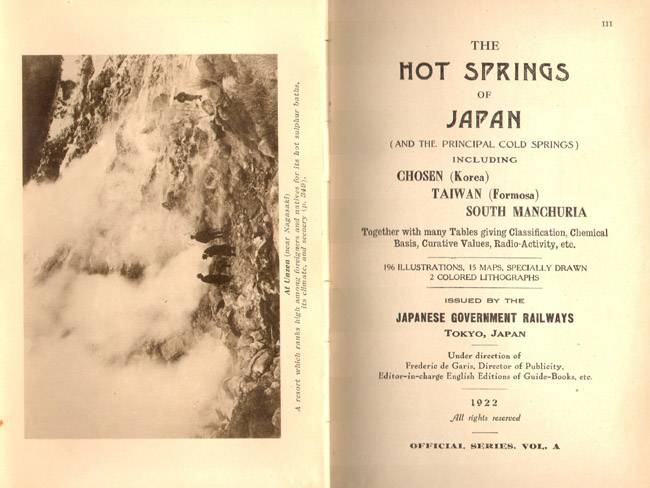 Table of Contents & List of Maps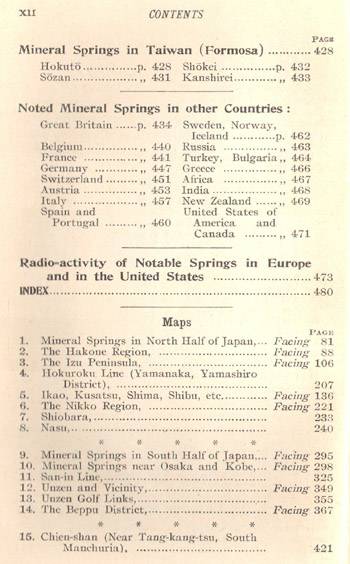 Example of Maps
"Mineral Springs in North Half of Japan" (facing page 80)

Measures 12 x 17 in (30 x 43 cm) folded out


"The Hakone Region" (facing page 88)

Measures 6 3/4 x 8 in (15.7 x 20 cm) folded out


"Mineral Springs in South Half of Japan" (facing page 295)

Measures 11 3/4 x 15 in (30 x 38 cm) folded out

Front and Rear Paste Downs and Endpapers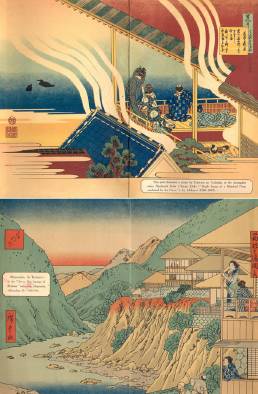 (Color lithograph facsimiles of woodblock prints)

Colophon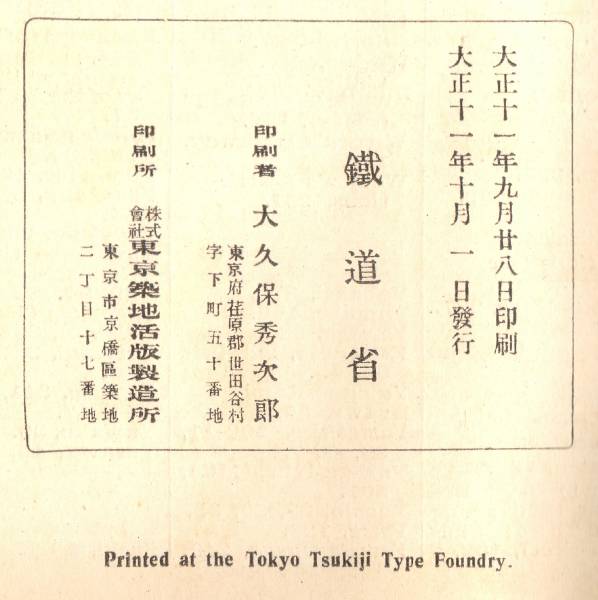 Printed: Taisho 11 (1922).9.28
Published: Taisho 11 (1922).10.1