~~ Book 1915130916 ~~
Japan
Imperial Government Railways, January 1915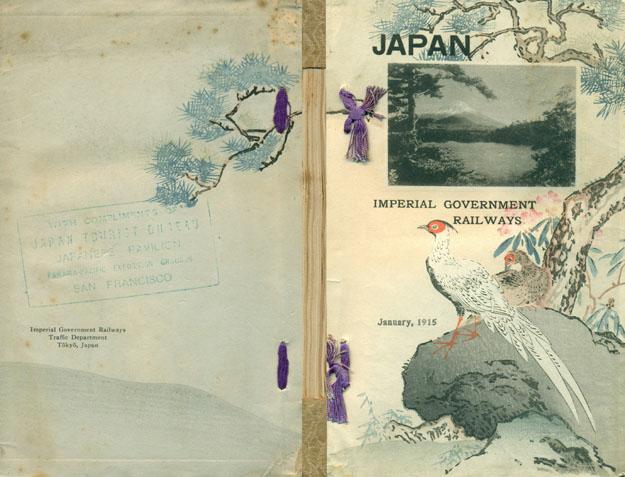 Condition. The book is in Very Good condition. There is light foxing on the covers, particularly at the top of the back cover. The binding is solid. Internally there is very scattered light foxing. The folded pages are complete with no cuts or tears. The tissue guard for one collotype plate is 90% missing. Only an irregular shaped piece adjacent to the spine remains (see the collotype plate "Playing the Koto" below). In all other respects the book is complete and free of faults.

Imperial Government Railways:
Japan, Imperial Government Railways, Travelers' Handy Guide, 1915, Special Edition for The Panama-Pacific International Exposition, January 1915, issued the Japanese Government Railways, Tokyo, Japan, small 12mo (4 3/4 x 7 1/2 in - 12 x 19 cm), stiff wraps illustrated with color woodblock print and a black and white collotype image (reproducing a photograph of Mt. Fuji) on front cover, two blue stab ties, spine uncovered except for 1 inch at the head and foot, folded pages, numerous black and white collotype (8 plates) and halftone plates (20 plates), 2 map plates, 2 diagram plates, 2 fold out tables and large fold-out color lithograph map at the back, 62 numbered pages. The plates, tables and maps are not included in the numbered pages. Counting the plates (28 total), map plates (2), diagram plates (2), tables (2) and fold-out map, there are 97 pages in the book. The collotype plates are protected by tissue guards with descriptive captions. The back cover has the following inscription' "Imperial Government Railways, Traffic Department, Tokyo, Japan"
It appears that this guide was prepared primarily for complementary distribution at the Panama-Pacific Exposition in San Francisco. All the copies of this book that I have examined have the below handstamp on the back cover.
The printer of this book is not stated. I believe that it was the Shimbi Shoin. They printed other official Government Railway Guides during this time period.
Title Page



Collotype Plates























Halftone Plates



























































Map Plates





Diagram Plates





Fold Out Map at Rear

15 x 13 in - 38 x 33 cm - 3 folds out, one fold up