Condition. The book is in Very Good+ condition. The covers have several small scraped/torn areas and the corners are worn. Some plates have margin toning. No stains or foxing in the image areas. The wrap-around case is in Poor condition. The clasps are missing. Most of the seams are broken (up to 80%). There is a large (1 inch) stain on the front cover. 2 inches of the right spine are missing.

Shimbi Shoin:
Seigaku Gwashu, Tokyo, The Shimbi Shoin, 1912 (Taisho 1), large 4to (15 1/4 x 10 1/2 in - 38.8 x 27.2 cm), silk covered boards with paste on title on front board (reads Japanese style, back to front), edges beveled, spine covered in decorated silk cloth, purple silk ties, gilt top and bottom edges, text in Japanese and English, Japanese & English forwards, 67 plates reproducing 72 paintings. There are 7 color wood-cut plates and 60 black and white collotype plates. All plates are on thick high quality paper stock. The wood-cuts are tipped to plate.
The book reproduces paintings found in the collection in the Kita-in Temple (Star Hill Collection) near Tokyo. The plates are presented in three sections. Each section is preceded by a tissue guard with brief descriptive information in Japanese and English. The three sections are: 1) Pictures of Various Workmen (24 plates) attributed to Kano Yoshinobu, 2) Portraits of the Six-and-Thirty Master Poets by Matabei Iwasa (36 plates) and, 3) Twelve Varieties of Hawk-Pictures (7 plates). Five of the Hawk-Picture plates have two images each.
There was only one edition of the book and it marketed as an "Edition de Luxe" by the Shimbi Shoin.
Issued with a straw textured folding case with clasp ties and paste on title label.
In a 1922 Shimbi Shoin catalogue (and later editions also), this book is described in these terms:
The present album, the pictures of which have been selected out of the treasures kept in the Temple Kita-in, at Kawagoe, near Tokyo, contains, besides seven plates representing twelve varieties of Hawk-Pictures, ascribed to Tannyu, thirty-six figures by Matabei Iwasa,-- precious relics and the only standard by which one can judge the works of the artist,-- and twenty-four plates by Kano Yoshinobu representing the various classes of artisans in the Toyotomi period. The last works not only enable us to study the manners and usages of the time, but are rightly considered to constitute the best ever produced by Ukiyoye school.

Series == One volume.
Size == 1 foot 3 1/2 inches by 10 3/4.
Number of Plates == Sixty seven....7 are colored, of which 2 are on gold background
Price == Edition de luxe ..............Yen 25


(Valuable and Important Japanese Art Publications, Shimbi Shoin, Tokyo, 1922)
Preliminary Pages
Title page with Seigaku Gwashu in Japanese only
Japanese text (2 pages printed front and back)
English text "Forward" (1 pages printed front only, back blank)
Three sections of plates, each section introduced by English and Japanese descriptive tissue guard sheet.
Plates

Pictures of Various Workmen (24 plates - 24 paintings reproduced) - 3 Color Plates. 
[all color plates, representative black and white plates]










Portraits of the Six-and-Thirty Master Poets (36 plates - 36 paintings) - 3 Color Plates.
[all color plates, representative black and white plates]











Twelve Varieties of Hawk-Pictures (7 plates  - 12 paintings reproduced) - 1 Color Plate.
[all plates, representative black and white plates]
















Colophon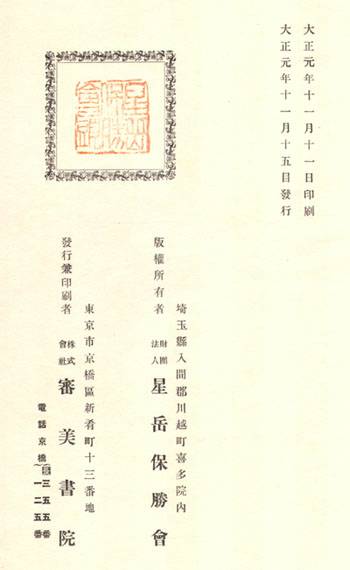 Printed: Taisho 1 (1912).11.11
Published: Taisho 1 (1912).11.15