~~ Book 1903110222 ~~
Masterpieces Selected from the
Korin School, Volume 1 (Korin Ogata)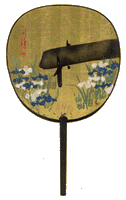 Shiichi Tajima
Published by Shimbi Shoin, 1903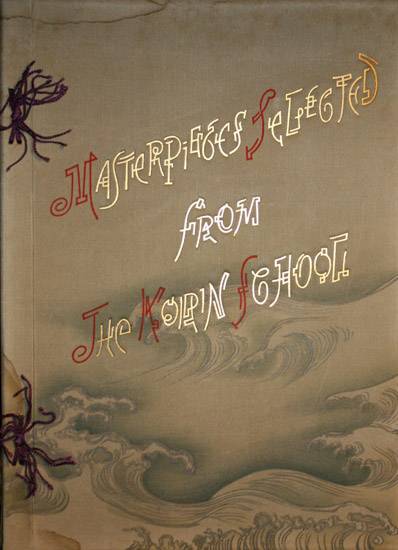 Condition. The book is in Good condition. There is water staining damage. It does not enter the image area of the plates however or the printed areas of the text pages. The water staining is most evident on the front cover (outside and inside), first 10 pages (area at top of page by the spine ca 3cm long by .5cm down), back cover ad the foot adjacent to the spine, inside and outside), last 8 pages in the same area (ca 2cm long by .5cm up). The plates are clean and I would rate them as Very Good. The fabric at the foot of the spine is loose (ca 4cm) and the spine is slightly cocked because of the water damage. The book is accompanied by the new issue straw wrap-around case with a paste on title label. The case is in Poor condition. It is badly chipped and torn and one section is completely broken loose. It is more for reference than a functioning protective case.
Kuki, Baron Riuichi (preface)
Tajima, Shiichi (editor):
Masterpieces Selected from the Korin School, Volume 1, Tokyo (52 Nichomachi, Shitaya-Ku), 1903, Shimbi Shoin, Volume 1 of a five volume set, large Folio (16 3/4 x 12 1/4 in - 42.5 x 31 cm), silk covers with beveled edges tied with blue string, front cover illustrated and with gilt lettering, all edges with gilt (top, side & bottom), decorated front and end papers, an accompanying note (not with this copy of the book) found in some books indicates a printing of 2,000 copies, 31 plates (thirteen color woodblock plates and 18 black and white collotype plates), 22 pages of text in English. High quality thick paper stock pages (only one side used) used on all plates. This volume is devoted to Korin Ogata of the Korin School. The set of five contained only two volumes devoted to the Korin Ogata's works.



Text Pages (22 pp)
Preface by Baron Riuichi Kuki (i-iiiv - 8 pages)
General Introduction by Shiichi Tajima (ix-xv - 7 pages)
Brief Explanation of the Composition and Use of Pigments (xvi-xix - 4 pages)
Biographical Sketch of Korin Ogata (1-3 - 3 pages)
List of Plates
Flowers (wood-cut)
Flowers (wood-cut)
Ceremony of Purification (b&w collotype)
Maples and Podocarpus Chinenis (b&w collotype)

Plum trees (b&w collotype)

Plum-trees (b&w collotype)


Plum-trees (b&w collotype)

Deer (wood-cut)
White Chrysanthemums and Flowering Grass (b&w collotype)
Flowers of the Four Seasons (wood-cut)
Flowers of the Four Seasons (b&w collotype)
Flowers of the Four Seasons (b&w collotype)
Flowers of the Four Seasons (b&w collotype)

God of Thunder (wood-cut)
Han-shan and Shih-te (b&w collotype)
Catching Insects (b&w collotype)
Fan-papers (b&w collotype)
Fan-papers (b&w collotype)

Fan-papers (b&w collotype)
Fan-papers (b&w collotype)
Fan-papers (b&w collotype)
Fan-papers (b&w collotype)