Serizawa Keisuke (illustrations)
Suzuki Shigeo (lacquer covers)
Keller, Carl Tilden (commissioned book):
Ehon Don Kihote (Don Quixote Picture Book) or Don Quixote a La Japonaise, Mukomachi (near Kyoto), Sunward Press, Bunsho Jagaku, proprietor, October 1936, large 8vo (8 1/4 x 11 1/4 in - 20.9 x 28.7 cm), text in Japanese only, high quality Japanese paper in folded sheets, kangxi Japanese style binding, illustrated covers, spine not covered except for 1 inch at the head and foot, 31 illustrations (28 double page illustrations and 3 single page), 34 folded pages for a total of 68 pages.
This was a by subscription, limited edition, book. A pre-publication advertisement stated a "strictly limited" printing quantity of 75, of which 50 were "for sale." The book is sometimes reported with a publication quantity of 100 (75 plus an additional 25). Perhaps this is stated in the colophon. The books are numbered by hand in Japanese within the colophon. This is a very early Serizawa Keisuke book and perhaps the third book that he produced.
While the publication date of the book is generally reported as October, 1936, the date on the page behind the title pages gives Showa 12 (1937).
Serizawa's art in this book replicates the 17th century "Nara ehon" style of Japanese color illustrated books which presented medieval tales. Don Quixote is presented as a Samurai. The illustrations were created in black and white using paper stencils. They were then colored by hand in green and orange red (Tanrokubon) as was typical of "Nara ehon." To the traditional colors, Serizawa added yellow.
Most, but not all, of the illustrations span two adjoining pages. Except for one illustration they are numbered in Japanese. Twenty-eight illustrations are double page and three single page (numbers 1, before the list of illustrations, and numbers 12 & 13). The number on the seventeenth plate (double page illustration) is omitted.
Covers are lacquer and were produced by Suzuki Shigeo. The cover illustrations depict stylized clouds along with clusters of four dots each in red on a light brown background with repeating gold leaf patterns overlaying the entire illustration.
The book is accompanied by a indigo-dyed cloth covered wrap-around case (chitsu) with two ivory clasps. The case has a paste on title label.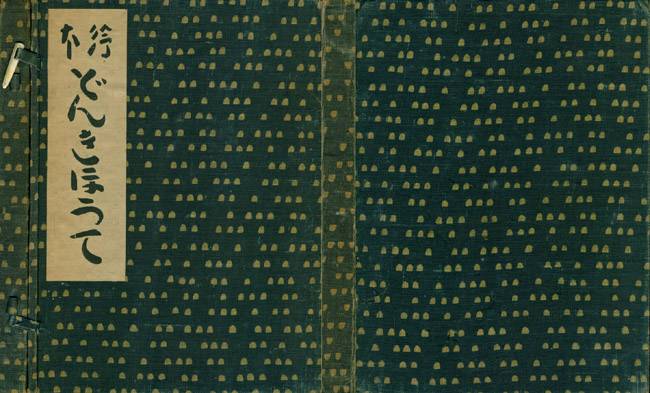 The publisher's advertisement describes the book in these terms.
Stencilled and hand-coloured by Keisuke Serizawa, and published by the Sunward Press, the unique private press of Japan, at the urgent request of Carl T. Keller of Boston, the well-know collector of Don Quixote.

Thirty-one illustrations on the finest Japanese hand-made paper, with explanations beautifully stencilled in Japanese characters. Size of each illustration, 36 x 23 cm. Bound entirely in Japanese fashion with chitsu case and ivory clasps. Edition strictly limited to 75 copies, of which 50 copies are for sale. The subscription list is nearly complete but a few copies are still available. Price twenty-five dollars in the United States of American, five pounds in Great Britain.

This is Don Quixote a la Japonaise. The knight, his squire, and all the characters of the story are represented as of the Samurai eras of old Japan, with wonderfully vivid and picturesque settings. The artist spent an entire year in designing and executing this unique addition to the treasure of bibliophiles and lovers of fine arts. Western collectors will be especially interested in the deft technique of stencil-engraving, which is peculiar to Japan. (Pre-publication Advertisement)
Carl Tilden Keller (1872-1955) was a well known collector of rare editions of Cervante's Don Quixote in all major languages. He personally commissioned the printing of this book.
This is second Serizawa book listed in Serizawa, Master of Japanese Textile Design.
Item 153. Ehon Don Kihote [The Illustrated Don Quixote] Paper-stenciling and hand painting. 28.7 x 20.8 cm, October 1936. (Serizawa, Master of Japanese Textile Design, 2001, more information on this exhibition catalogue is here)
Serizawa produced another version of this book in 1976. It was titled Shinpan ehon Don Kihote. This book had a much greater range of colors. It is on-line here.
Title Page


Back of Title Page - Showa 12 (1937)


Colophon


Sunward Press Logo

(Found on page before colophon and
on the wrap-around case.)


Collation (Folded Pages - Front/Back).

Title Page/Date                                     -  1 folded page
Frontis Illustration/Listing of Illustrations*      -  1 folded page
Listing of Illustration*/Listing of Illustrations*  -  1 folded page
Listing of Illustrations*/Illustration              -  1 folded page 
Illustrations/Illustrations                         - 28 folded pages
Illustration/Sunward Press Logo*                    -  1 folded page
Colophon*/Blank Page                                -  1 folded page
                               Total Folded Pages     34
                               Total pages            68
                              
*Page printed in Black and White Only


For more information on Serizawa's works, click here.