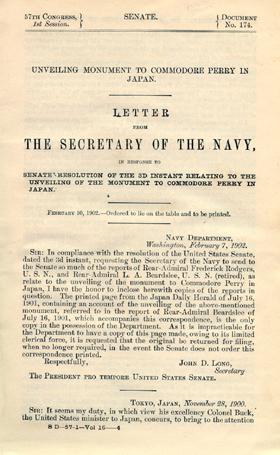 Long, John D. et al:
Unveiling Monument to Commodore Perry in Japan, Letter from the Secretary of the Navy, Washington, DC, February 10, 1902, 26 pp., Senate Document 174, 57th Congress, 1st Session, designated "SD-57-1-Vol 16-4", small 8vo (5 3/4 x 9 in - 14.5 x 23 cm). This letter placed in the Congressional record various documents / writings relating to the establishment and dedication of the monument to Commodore Perry in Kurihama, Japan on July 16, 1901
The Secretary of Navy's letter to the Senate contains a series of letters, speeches and newspaper accounts relating to the establishment and unveiling of the Perry monument. The moving force for the monument was Rear Admiral (retired) L.A. Beardslee, who was on the Expedition to Japan. He was disappointed to find when he visited Japan in October of 1900 that nothing commemorated the spot where Perry first landed on July 14, 1853 at Kurihama to deliver the President's letter to the Emperor. He garnered support to establish a suitable monument. The monument was dedicated on July 14, 1901. The account from the Japan Daily Herald of July 16, 1901, is reprinted and it contains the speeches give at the ceremony by Baron Kaneko Kentaro, J.M. Ferguson (second secretary of the American legation), Viscount Katsura (Premier), Admiral Rodgers, Governor Sufu and Rear Admiral Beardslee. A report by commander of the US Squadron participating in the ceremony is also included. The US Navy ships New York, Yorktown and New Orleans participated along with several Japanese Naval vessels.
Monument in Kurihama Commemorating Perry's First Landing
The monument shown below commemorates Perry's first landing and was erected in Kurihama, Japan in 1901.
Monument on Dedication Day, July 14, 1901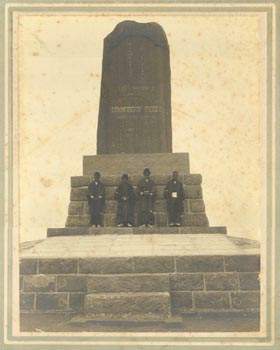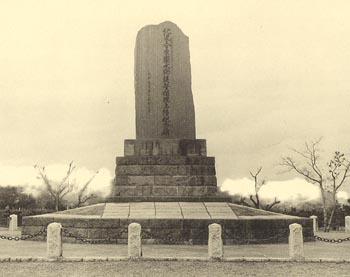 Picture taken ca 1913
Same Monument as it Appears Today