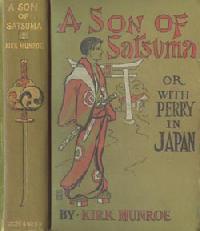 Munroe, Kirk:
A Son of Satsuma - Or With Perry In Japan, Scribners, NY, 1901, 1st edition, black & white illustrations (Frontispice + 7) by R.F. Zogbaum, frontispiece has tissue guard, no dust jacket, green cloth with red, white and black illustrated front and spine, 12mo (5 1/8 x 7 1/2 in - 13 x 19 cm), 308 pp.
A fictional account of an American stranded in Sumatra when his ship, the "Friendship," is taken by local pirates. The US Navy Frigate "Potomac" is dispatched by President Jackson to rescue the crew and avenge the taking of a US merchant ship. The main character "Bob Whiting" and a shipwrecked Japanese sailor (Katto) are rescued and taken to Canton and deposited there to await the arrival of the next American ship. Bob and Katto sneak into Japan where he came under the protection of the Daimio of Satsuma who treated him as a son. Bob and Katto were there to watch Perry's first entrance into Yedo Bay. The fictional account traces the events of the Perry expedition through the eyes of Bob and from the Japanese perspective (as written by an American). Bob departs Japan aboard the Saratoga after the second (final) visit of Perry to Japan. He even arranged to have his trusty sidekick, Katto, sent by the Japanese government to attend the US Naval Academy. An interesting mingling of fiction and fact with much more fiction than fact. The character Bob and Katto seem to be loosely based on the story of John Manjiro.
According to Capt. J.M. Ellicott's historical study, Japanese Students at the United States Naval Academy, which appeared in the United States Naval Institute Proceedings for March 1947, in 1869, as the U.S. and Japan were working to establish closer diplomatic and cultural relations, the U.S. Congress passed a Joint Resolution allowing up to 6 Japanese students to be enrolled an Annapolis. Ellicott states:
It then seems to have become the policy of the Japanese Government to send sons of the nobility to Annapolis, probably to impress the United States with their polish and prestige.

Apparently in the nature of a trial balloon, only one student, Jenno Matsumura, was sent next year. He graduated fairly well, participated in the Chinese and Russian Wars, and became a vice admiral and baron. He was a classmate of Admiral Halsey's father.
Perhaps Matsumura was the inspiration for fictional character of Katto.

This book is akin to a confused dream with elements of Golownin, Joseph Neesima, John Manjiro, Will Adams (Anjin-san) and the Perry Expedition merged into one story.

Chapters:

I.       Farmer Dutton's Bound Boy
II.      Sunshine and Clouds
III.     Stolen Learning
IV.      In Salem Town
V.       The Son of a Black Ball Skipper
VI.      A Sailor Lad on a Farm
VII.     Stickney Makes Himself "Solid"
VIII.    Bob Chooses a Cabin
IX.      A Hayseed at Sea
X.       Rated as Assistant Cook
XI.      Learning the Ropes
XII.     On the Northwest Coast
XIII.    A Waif from Japan
XIV.     The Other Side of the World
XV.      A Malay with Gray Eyes
XVI.     Seized by Pirates
XVII.    Two Sides of Life in Sumatra
XVIII.   In the Pepper Fields
XIX.     A Dash for Freedom
XX.      Uncle Sam's Long Arm
XXI.     On Board the Frigate "Potamac"
XXII.    Bob Performs a Miracle
XXIII.   Adrift Without Oars
XXIV.    In a Japanese Guard-house
XXV.     The Prince of Satsuma
XXVI.    A Hermit Nation
XXVII.   The Initiation of Bob
XXVIII.  A Yankee Frigate Shows the Way
XXIX.    Because I Am an American
XXX.     Commodore Perry Carries His Point
XXXI.    Bob is Left Behind
XXXII.   Katto and O-Kama-San
XXXIV.   Japan Steps Into Line
XXXV.    Johnny Raw at the Academy

Illustrations - Black and White
(Photo plates of art by R.F. Zogbaum)

The Capital Was Plainly Discernible From the Mastheads (Frontispiece)

Bob Carried Her Through the Next Drift

"Say 'Sir,' When You Answer an Officer of this Ship"

He Came Face to Face with a Bear

Bob Sprang at the Man's Throat

The Lads Sat Motionless Until the Junk Had Vanished into the Night

"Because I Am an American"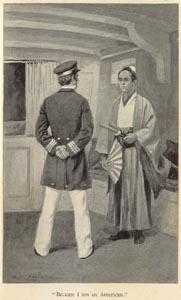 "Because I Am an American"

Collation. Full Title: A Son of Satsuma - Or With Perry In Japan, New York, Charles Scribner's Sons, Fontispiece (with tissue guard), Title Page (2 pages), "To My Readers" (2 pages), Contents (2 pages), List of Illustrations, text (numbered pages 1~306), Advertisments (4 pages), 6 single sided illustrations/plates not numbered).