William Elliot Griffis has a note on the Japanese Postal Sytem of 1874-5 in his book, The Mikado's Empire. He presents the following postal statistics which were provided by the Japanese Government.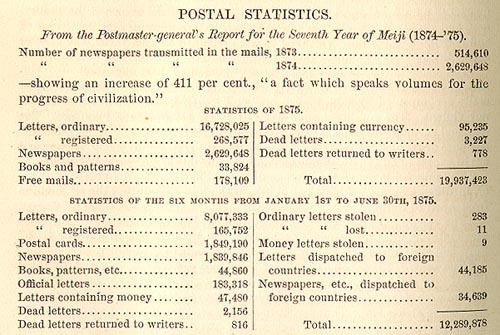 Postal Statistics, Griffis, Mikado's Empire, 2nd ed (1877) at p 590.

Griffis notes that the Superintendent of Foreign Mail for the Japesese Service was Samuel W. Bryan, formerly of the United States Postal Service. He also notes the demise of the foreign post offices in Japan stating:
The United States Government was the first to recognize the right of Japan to control the transport of her own foreign mails; and on the 6th of August 1873, a postal convention was concluded between the two countries. It is hoped that the from the general satisfaction given by the Japanese Postal Service, the European nations will likewise grant to Japan the right to control her own postal affairs.