Commodore M. C. Perry
Collotype Postcard Set (1909)
Commemorating the Jubilee of the Founding of Yokohama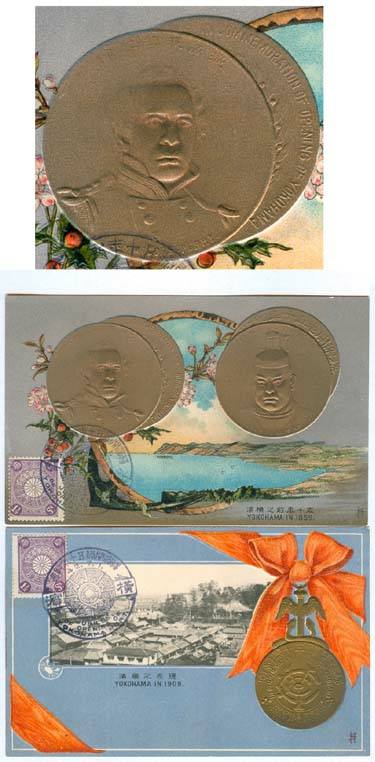 This is a two card picture postcard set commemorating the 50th anniversary of the founding of Yokohama.
The first postcard has image of Commodore Perry to the left and Lord Tairo Li Naosuke to the right. This card has a drawing showing Yokohama in 1859. Lord Naosuke was a key figure in the turbulent period between 1853 and 1858 as Japan struggled to deal with the mounting American and foreign pressure to open its ports to foreign trade. Naosuke pursued a moderate position urging a peaceful resolution and a limited opening of Japan to foreign trade. For more information on Lord Naosuke, click here. I believe the images of Perry and Naosuke were printed in bronze. On all of the postcards I have seen the bronze has lost it's luster and is flat.

The second card shows Yokohama 50 years later in 1909. A special Yokohama Jubiliee seal is printed in gold at the bottom right. This seal is invariably tarnished.
The postcards were issued by the Yokohama Chamber of Commerce. They were printed using high quality lithographic and collotype processes by the Yokohama Collotype Printing Co. These postcards bear 1 1/2 sen stamps tied to the postcards by a special postal cancel commemorating the "Jubilee of the Opening of Yokohama Port" which is dated Meiji 42 (1909).7.1.

Click here to return to the Images of Commodore Perry web page.