-- 1861.12.19 - James Morrow, M.D. to Mr. President (Not Japan Expedition Related)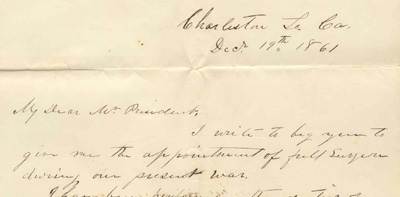 Addressed to:
Mr. President

From: Jas. Morrow, M.D.
Date of Letter/Contents: 1861.12.19
Envelope/Folded Letter (no envelope).
Format of Contents: One page letter written on the a folded page.
Jas. Morrow, M.D. Signature Signature

Comments. Dr. Morrow departed Hong Kong aboard the Lexington on September 9, 1854. He arrived at the Brooklyn Navy Yard on January 1, 1855. He returned to South Carolina and resumed the practice of medicine. During 1856 and 1857 he lobbied Congress to award him additional compensation for his work on the expedition and was successful in obtaining $3000.00. He served during the expedition for $25.00 a month. During the Civil War he served in the Confederate Army. He was appointed an acting assistant surgeon on Morris Island on December 30, 1860. On November 26, 1861 he was reassigned to James Island. This is a letter from Morrow to the President of the Confederacy requesting an appointment as a full surgeon noting that he had been performing those duties since the 1st of January. In April of 1862 Morrow was assigned non-medical duties. He was discharged from the Confederate Army in June of 1865. He died in December of 1865. This letter does not have the accompanying envelope. Strangely it was accompanied by a stamped envelope canceled in New York and addressed to "Colonel Moore, Private Secretary of the President, White House, Washington, D.C." To see the envelope, click here. I do not believe that the envelope had anything to do with Morrow's letter to the President of the Confederacy.

Helpful References Regarding These Items

Morrow, James (MD) (journal writer):
Cole, Alan B. (editor),
A Scientist with Perry in Japan, The Journal of Dr. James Morrow, Richmond, The University of North Carolina Press - Chapel Hill (William Byrd Press, Inc.), 1947, 307 pp, 15 x 23 cm (6 x 9 in), 8vo, portrait of Dr. Morrow as frontispiece and 8 black and white photographic plates (4 pages with photographs front and back), beige cloth, issued with dust jacket. The dust jacket is illustrated with a reproduction of a lithograph from the official Narrative of the Perry Expedition to Japan which is titled "Torigasaki, Yedo Bay." This is the day by day scientific journal of the expedition's agriculturalist who studied plant specimens and agriculture in Singapore, China, Java, Okinawa & Japan during the expedition. For more information on this book, click here.

Perry, Commodore M. C.,
Hawks, Francis L., compiler:
Narrative of the Expedition of an American Squadron to the China Seas and Japan, Performed in the Years 1852, 1853, and 1854, under the Command of Commodore M.C. Perry, United States Navy, Volume 1, Original Narrative, 1856 (Tucker and Nicholson) & 1857 (Appleton). The first volume (Tucker, Nicholson & Appleton) (537 pages) is a chronological account or narrative of the expedition. Original editions as well and 1967 facsimile set (AMS) and 2000 facsimile of Volume 1 (Dover). For more information on the Narrative, click here.

Perry, Commodore M. C.,
Morison, Samuel Eliot, introduction
Pineau, Roger, editor:
The Japan Expedition 1852-1854. The Personal Journal of Commodore Matthew C. Perry. This one volume work was published by Smithsonian Institution Press, Washington, DC, in 1968. The book contains 30 black & white illustrations and 49 color plates. It measures 8 1/2 x 11 1/4 inches (21½cm x 28½cm) and is 241 pages long. Perry's journal was incorporated into the official Narrative of the expedition. However, certain personal matters were omitted and numerous drawings were not made a part of the official Narrative.
Williams, Samuel Wells (Journal)
Williams, Frederick Wells (Preface & Editor):
A Journal of the Perry Expedition to Japan (1853-4), Yokohama, 1910, Transactions of the Asiatic Society of Japan (TASJ), Volume XXXVII, Part II, published by Kelly & Walsh, Ltd, printed by the Fukuin Printing Co., 8vo, black and white tissue guard protected collotype frontispiece (portrait of Perry), color chromolithograph plate depicting Dr. S. Wells Williams as drawn by a Japanese artist, 2 other black and white collotype plates of drawings/paintings ("Perry Landing at Kurihama, 14 July, 1853" and "View of Yokohama Harbor when Perry Was First Sighted"), 9 page "Prefatory Note (i-ix), 263 pp. Williams was the official translator for the Commodore Perry during the Expedition to Japan. In this very critical position, he observed all the major events that occurred as the Japan expedition progressed. This is his personal journal recorded on a day by day basis. The journal covers 1853-54. It was made available to the Asiatic Society of Japan by his son, F. W. Williams. Considered by many to be the most important contemporary journal published by a member of the expedition. More than one third of the journal relates to activities on Okinawa. For more information on this book, click here.

Harris, Townsend,
Cosenza, Mario Emilio (Intro/notes):
The Complete Journal of Townsend Harris, First American Consul General and Minister to Japan, New York, Doubleday - Doran & Co, 1930 (first edition), maroon cloth, 8vo, preface, introduction and notes by Mario Cosenza, 616 pp. Contains nine appendices which include the Convention of Shimoda concluded on June 17, 1857 and the very important Treaty of Amity and Commerce concluded in Yedo (Tokyo) on July 29, 1858. Published for the Japan Society, New York. Contains 16 black and white illustrations to include frontispiece (picture of Harris), a picture of the "Ginkgo Tree at the Zempuku-ji," drawings of Shimoda and the Consulate in Shimoda and 12 other pictures of documents and the Harris seal. Townsend Harris was the first high level US diplomat to enter Japan after the Perry Expedition. He arrived at Shimoda in 1856 and departed Japan in 1861. During his tenure, he negotiated a trade treaty with Japan. This was the first complete publication of the Harris journal and includes the earlier portion on his mission to Siam, which is published for the first time. Other parts were published in 1895 with omissions and they are restored here. Contains Harris's journal entries from 1856 to 1858 with notes on travel, diplomatic and social life, Japanese scenery, life and customs and encounters with King of Siam and other oriental notables. In the preface the Cosenza discusses Harris's failed efforts to join the Perry Expedition to Japan in Shanghai when Perry first arrived there in 1853 on the first leg of the expedition. <!150>
Subsequent editions:
1959, Tuttle, Tokyo, second edition, 616 pp, 12mo, with dust jacket, preface by General Douglas MacArthur II. <!45>
1959, Tuttle, Tokyo, second edition (Revised), 616 pp, large 12mo, (15.2 x 22 cm -- 6 x 8 3/4 in), with dust jacket, preface by General Douglas MacArthur II. Cover is cloth with a simulation of a journal entry by Townsend. <!45>
1968, Tuttle, Rutland, VT, with dust jacket, third edition. <!25>

Ishikawa, Ryohei:
The Forerunner Foreign Post Offices in Japan, British - U.S.- French, Tokyo, Japan Philatelic Publications, Inc, printed by Kyodo Insatsu, 1976, large 8vo (7 1/4 x 9 in), red covers with gilt titles on front cover and spine, no dust jacket, numerous illustrations (most in color), 164 pp. The book is primarily in Japanese but the key illustrations have English descriptive titles. Accompanying the book is an 11 page English language pamphlet that discusses the early foreign post offices in Japan. The book presents philatelic material (covers and stamps) from Ishikawa's award winning philatelic collection of foreign mail and post offices (British, United States and France) operating in Japan from the 1860s through the 1880s. Numerous covers (franked envelopes) and canceled stamps are presented in color with descriptive titles. A key reference for this very rare material. The first cover pictured in the book is an official (Public Business) cover from Commodore Perry aboard the Susquehanna with a letter dated May 23, 1853. This letter would have been written while Perry was en route to Okinawa (arriving May 26) from China.

Heine, William
Frederic Trautmann (Translator, Introduction and Annotations):
1990, Translated from German to English. Portions of the original memoir were republished in With Perry to Japan, A Memoir by William Heine, Translated, with an Introduction and Annotations by Frederic Trautmann, University of Hawaii Press, 3/1/1990, 235 pp, 6 1/4 x 9 1/2 format (8vo large), 16 pp of black and white illustrations - primarily of Heine's works. Trautmann provides a 5 page preface, 22 page introduction, 8 page chronology, 30 pages of notes, a 10 page bibliography and an 11 page index that supplement the Heine memoir. In total, Trautmann provides 86 pages of invaluable supplemental information which helps the reader understand the Heine memoir and place the expedition to Japan in historical perspective. The Heine memoir is not the choppy journal entry type style you often find in such literature. Instead, it is a rich and flowing narrative style chronicle of events by a key member of the expedition. ISBN 0-824-1258-1.

General Comments Regarding the Movement of Mail/Correspondence To and From the Expedition.
The presence of the Perry Squadron in Japanese waters can be viewed as the first American postal system to operate in Japan. Despite the unwelcome presence of the American Squadron in Japanese waters, United States mail/correspondence was moving to and from Japan and Okinawa as a result of the expedition.
Ryohei Ishikawa, an eminent Japanese philatelist, formed a collection which is know as The Forerunner Foreign Post Offices in Japan: British-US-French, Ryohei Ishikawa's Collection. In 1976 a catalogue of this collection was published. It is interesting to note that the first "forerunner" cover shown from the collection is a Japan Expedition cover. It is an "On Public Service" cover (unfranked) showing a return address of "U.S. Steam Frigate Susquehanna." The enclosed letter from Commodore Perry was dated May 28, 1853 and he directed the US Steamship Caprice to proceed to Naha, Loo Choo island. The letter indicated the Susquehanna was off the China coast when it was written.
It appears that expedition mail/correspondence could flow through several possible avenues.
Inbound and outbound mail could be passed directly to ships and work it's way to and from Japan in this manner independent of any established governmental postal system.

In and outbound mail could flow via commercial forwarding agents to and from Hong Kong* and the squadron independent of any established governmental postal system.

Inbound mail could pass through postal systems in the United States and Europe and make its way to the British Postal Agency in Hong Kong* or Shanghai** where it would then be forwarded to ships of the expedition.

Outbound mail could pass from the expedition to the British Postal Agency in Hong Kong and then flow through postal channels to the destination.

Local (China) mail to and from the expedition could flow through the Chinese Local Posts in the treaty ports and the British Postal Agency in Hong Kong.

Local (China) mail to the expedition could flow through commercial forwarding agents outside the British Postal Agency and then be passed to ships of the expedition.
The main operating base of the squadron was Hong Kong. For this reason, inbound correspondence was very often addressed in "care of" the United States / American Consul in Hong Kong.
* J.W. Spalding who served on the Expedition writes in his book, The Japan Expedition:
Letters: considering the rapid occurrences of events of moment now-a-days, and the lightening transmission of intelligence, it was with joy we got letters on our arrival at Hong Kong, having been for over half a year, so far as news was concerned, inhumed in a remote country. .... Many a poor fellow got letters that had been waiting for him in Hong Kong a long time, and at the same time letters from others of later date, that told that the writers of the former ones could never write again. (at page 345, The Japan Expedition)
** In his memoir of the Expedition, Wilhelm Heine commented:
We sailed the next day and returned to Loo Choo on June 21 (1853). Meanwhile the [American barque] Caprice [a collier chartered by Perry], one of our aviso ships, brought mail from Shanghai--a bag of it, carried to the Chinese port by the British overland postal service. (Heine Memior at page 55, see above)
** In his journal of the Expedition, S. Wells Williams stated:
Tuesday, August 2nd (1853). -- This evening, to the gratification of everyone, we met the "Vandalia" on her way to Napa, and obtained letters from her, among which I was happy to find one for me informing me that all at Macao and Canton were in good health a week ago. (Williams Journal at page 82, see above)