Japanese Studies
H.G. Ponting
Second Edition, 1920
Printed by Taikosha

Ponting, H. G.
Taikosha (Collotypes):
Japanese Studies by H. G. Ponting. F.R.G.S. Collotyped by Taikosha, distributed by Kelly Walsh, Limited, Yokohama, Second Edition, oblong 8vo (11 x 7 1/2 in 28 x 20 cm), 1920 (Taisho 9), bound Japanese style with blue and with string ties, head and foot of spine covered approximately 1 in with cloth, decorated (color) paper over thick cardboard (not pliable) covers, folded pages (with thin folded paper stiffener inside) protected by tissue guards, 52 Japanese scenes taken by the noted English photographer H. G. Ponting and printed in collotype by Taikosha, pages unnumbered. Images are various sizes with a typical image size of 6 1/2 x 4 1/2 in. Each image has a descriptive title in the left or right margin and most have a relevant line of poetry below the image. The text in this book is printed in red.
A noted photographer, Ponting spent three years traveling throughout Japan. This was just prior to his travels with Scott and Shackleton in the Antarctic, as the official photographer for the expeditions.
A first edition of the book was printed in 1906 with collotypes by the K. Ogawa. For more information on the first edition, click here.
Collotypes (Black and White Collotype Plates, 1920 Taikosha Edition).
Mount Fuji


Evening at Matsushima
*The Pine Clad Shores of Nippon
*Miyajima

The Ivory Carvers


Nara, the Heart of Old Japan
The Abbot of Ikegami
In Shiba Park, Tokyo
A Summer Shower in the Woods
Lake Motosu and Mount Fuji
Meditation, A Study of Gamman-ga Fuchi
O Tsune San

*At Matsushima


*Kameido Temple Garden Tokyo

Fishing Boats at Kawasaki
Himeiji Castle
On the Hozu Rapids
A Priest of Buddha
Tamadare-no-taki, Hakone
Tea Picking on the Shizuoka Hills
An Avenue of Torri at Inari, Kyoto

In an Old Garden
The Fortune Teller

At Fair Miyajima
Wisteria
The Pines of Mio
A Study of the Shoji
The Avenue at Nikko
A Prayer Wheel at Zenkoji
A Glen on the Hozu-gawa
A Priest of Kunozan
On a Pilgrimage to Nara
The Bronze Sculptor
The Nara Pagoda

Kinkakuji, Kyoto
In Lotus Land
In a Japanese Garden

Painting Pottery


The Golden Days of Autumn
November at the Flower Show
On the Tokaido
The Potter at his Wheel
Moonlight at Kiyomizu, Kyoto

December in Japan


The Daiya River at Nikko
Lake Kawaguchi from Torii zaka
Lake Kawaguchi
Sayonara

* These four plates (two pages folded) are in different sequence in the 1906 first edition with black and white collotype plates by K. Ogawa

Title Page
1920, Second Edition, Collotyped by Taikosha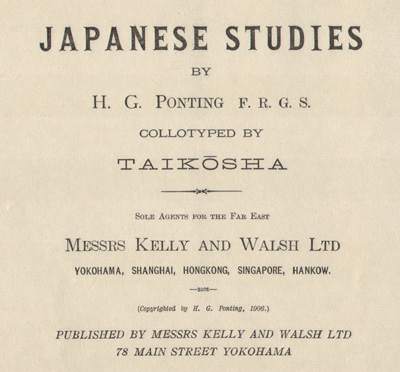 1920, Second Edition, Collotypes by Taikosha

Colophon
1920, Second Edition, Collotyped by Taikosha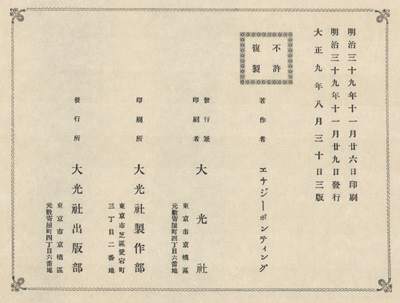 Printed: Meiji 39(1906).11.26
Published: Meiji 39(1906).11.29
Reprint: Taisho 9 (1920).8.3