This is a unit of 5 color collotype plates. I do not know the original source of the plates but based upon key characteristics, I am confident they are collotypes extracted from a book produced by K. Ogawa.
Type of Printing. Based upon inspection under magnification, they are clearly color collotype plates.

Lettering on Plates. Ogawa was perhaps the only printer in Japan at the time with the capability of printing titles onto collotype plates and all five plates have titles.

Plate Paper and Size. The plates measure 11 3/4 x 14 1/4 in (30 x 36 cm). The horizonal size has obviously been reduced some. The vertical size appears unmodified. The paper, which is of thickness similar to a thin index card, is the stock type typical of Ogawa's "Types and Views" books (see below). I note that an 1897 Ogawa book, The Hanami, contains plates of very similar size (11 3/4 x 15 in - 30 x 38 cm - untrimmed state) and paper type also.

Dating the Plates. I date the plates ca 1900. The plate of the "Waitress" features a lady who image was often used in the early 20th century. She is sometimes referred to as the "Laughing Geisha" as she alway seems to have a smile.
For information on Kazumasa Ogawa, click here.
A Waitress



Mother Says,I Must Neither Talk, Listen or Look

"The Laughing Geisha" - Close Ups and More Information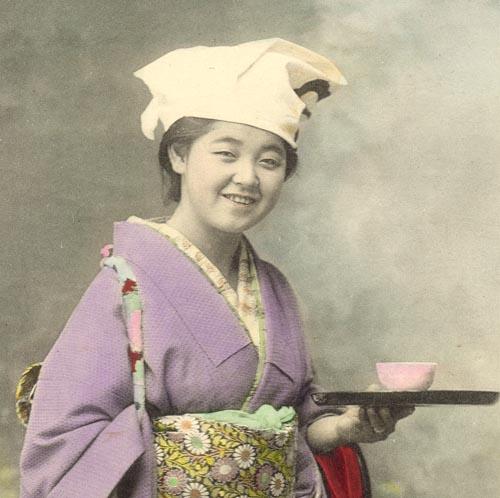 The lady in this image titled "A Waitress" is frequently seen in photographs from the turn of the 19th century. In Souvenirs from Japan by Margaita Winkel, 1991, three different photographs of the woman above are shown. The author characterizes them as "Laughing Geisha" and notes "The Jovial young girl of these photographs was apparently quite popular as she is encountered frequently in similar poses in tourist albums." (pages 111-112). You often see this lady on picture post cards canceled in the 1900-1905 period.

Winkel, Margarita:
Souvenirs from Japan, Japanese photography at the turn of the century, London, Bamboo Publishing Ltd, 1991, oblong 8vo (8 1/2 x 9 3/4 in - 22.5 x 26 cm), 171 pictures (including front and back cover - approximately 1/3 in color), 160 pp. Preface by Professor Willem R. van Gulik. A comprehensive illustrated review of photography in Japan in the 19th century. The author discusses various facets of photography in 19th century Japan (methods, noted photographers & subjects) with a focus on how these were applied in the "Souvenir" photographs produced for sale to foreigners and export out of Japan. The discussion is supplemented with 171 reproductions of these "albumen" photographs (many of which were hand colored) from the renowned collection of R. Shilling. ISBN: 1-870076-58-3 (paperback) and 1-870076-18-4 (cloth).