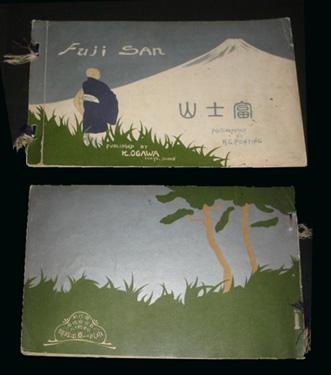 Ponting, Herbert G.:
Fuji San Photographed by Herbert G. Ponting, Published by K. Ogawa, Kelly Walsh Ltd., Tokyo, Japan, 1905, large 4to (10 x 15 in - 25.5 x 38 cm), decorative covers - both front and rear - with Japanese style silk-tied binding, 25 pages of full-page plates including the final photo which folds out, 27 pp. This is an album of 25 images of Mount Fuji. There is a one-page introduction in English (and Japanese) followed the photographs. Each photograph page is printed on one side only and is captioned in English and Japanese.
A similar companion book was published in 1906 titled Japanese Studies. It contained H.G. Pontings photograpahs of Japan which were rendered in collotype by K. Ogawa. For more information on that book, click here.
Title Page



Examples of Photographs