Ogawa, K. (Kazumasa)
The Russo-Japanese War: Naval, By Permissione of the Naval Department, Tokyo, ©1904 but printed and distributed in 1905, large oblong 4to (14 3/4 x 10 in - 37.5 x 25.5 cm), blindstamped decorated blue cloth covers with gilt titles (boards and spine), black and white illustrations, unpaginated but 9 pages of text in English titled "Operations of the I.J. Navy in the War" and 10 pages of Japanese text plus 120 unnumbered pages of photographs, 139 pp. The book contains 131 images (a few plates have multiple images) on 120 full page plates. All plates are black and white halftone photographs. Each page has an English caption and Japanese descriptive notes. The English text section traces the Operations of Admiral Togo's fleet, as it engaged the Russian Navy, from February 11, 1904 through May 28, 1905. It documents the Naval battles with the Russian fleet by the Japanese fleet during this period. Key battles events outlined are:
The First Mid-Night Assault at Port Arthur (February 1904)
The Battle of Chemupo (February 1904)
The Battle of the Yellow Sea (August 1904)
The Battle of Ulsan (August 1904)
The Battle of the Sea of Japan (May 1905) (in great detail including an appendix of Russian vessels involved and their status - 30 Russian vessels participated of which only two escaped with over 22 sunk).
The 120 photographic plates document the above Naval actions, the men and ships involved and the return of the Fleet and Admiral Togo's "triumphal return to Tokyo on the 22nd October, 1905." The English language listing of the plates in this book is here.
I have seen two very minor variations of this book. The above book uses the title "By Permissione" in the Enlish title page and the blindstamped areas are highlighted with black. The other variety uses the title "By Permission" and the blindstamped areas have no color or highlighting. Otherwise, both books contain the same text and illustrations.
Title Page of the "By Permission" version.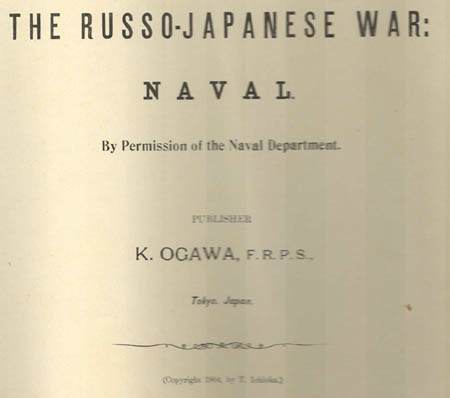 For information on Kazumasa Ogawa, click here.

For a listing of the titles on each plate, click here
Examples of Illustrations
(All Black & White Halftone Images)
Admiral Togo and Other Senior Officers


A Group of Senior Admirals with Their Staffs (with id tissue guard)


Admiral Baron Yamamoto, Minister of the Navy, Vice Admiral Saito, Vice-Minister of Navy, Admiral Viscount Ito, Chief of the Naval Commanding Staff


The "Idzumo"