Ogawa, K. (Kazumasa)
Japanese Life, Yokohama, Kelly & Walsh, Folio (11 3/4 x 16 in - 30 x 40.5 cm), ca 1892, decorated card covers, string ties, 12 black and white collotype plates with a total of 27 different images. There are 7 plates with one image each and 5 plates with 4 images each. Each plate is protected by tissue guard and has a descriptive title below the image on the plate. Many seldom seen images to include "Darby and Joan (an elderly couple tending to chores) and an "old-time policeman and his catch." This books should not be confused with the K. Ogawa books (8vo) under a similar title, Illustrations of Japanese Life. The images in that series are not found in this book.

The only copy I have examined was accompanied by a Kelly & Walsh "Sole Agents" color woodblock insert page.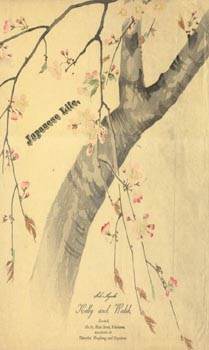 For information on Kazumasa Ogawa, click here.