Covers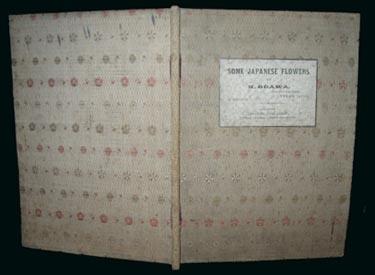 Title (Past-On)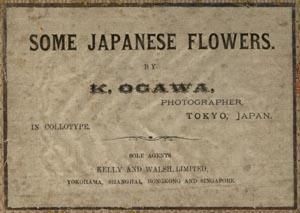 Ogawa, Kazumasa (Color Collotype Plates):
Some Japanese Flowers by K. Ogawa, Photographer, in Collotype, Yokohama, Kelly and Walsh Limited (Yokohama, Shanghai, Hong Kong and Singapore), ca 1895, 12 pages of color collotypes of flowers (chrysanthemum (2), iris (2), lily, lotus, morning glory, paeony (4) and wisteria), folio (11 3/4 x 16 in) with tissue interleaves, 12 pp. Decorated cloth boards with a paste down title and gilt edges. Each collotype is on high quality thick stock paper and protected by a tissue guard. No title page or text except for the name of each flower which is presented below the flower in each collotype. The book is undated. I have seen this book with a gift inscription of "Yokohama, 1895."
Several of these collotypes appeared later (1897) in Japan, Described and Illustrated by the Japanese, Written By Eminent Japanese Authorities and Scholars by F. Brinkley. For information on those books, click here. To see the Ogawa color collotypes in the 15 section Brinkley book published in 1897~8, click here. .
For more information on Kazumasa Ogawa, click here.
Close-up of Collotype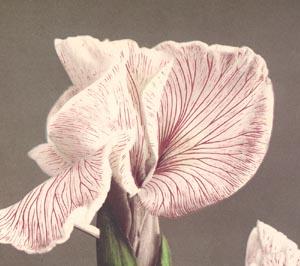 The 12 Color Collotypes by K. Ogawa