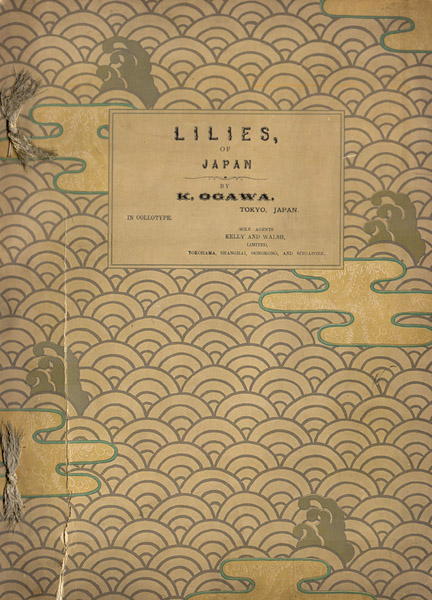 Ogawa, Kazumasa (Collotype Plates):
Lilies of Japan, Yokohama, Kelly and Walsh Limited (Yokohama, Shanghai, Hong Kong and Singapore), 1895, 12 pages of black and white collotype plates of lilies, large 4to (11 3/4 x 16 in - 30 x 40 cm), stiff decorated wraps, tissue interleaves with letterpress descriptive captions, 12 pp. Each collotype is on high quality thick stock paper and protected by a tissue guard. No title page or text except for the name of each flower which is provided on the tissue interleaf preceding each print. The 12 plates present a total of 24 named lilies. The book has a tipped in colophon (Meiji 28 - 1895) on the inside back cover.
For more information on Kazumasa Ogawa, click here.
The 12 Black and White Collotypes by K. Ogawa

  

Shiro-kanoko
Hitoye-Tengai
Tame tomo
Shiro-kanoko, Benisuji, Hitoye-tengai & Shiro-kanoko
Kio-kanoko, Karui-zawa, Yaye-tengai & Shiro-kanoko
Karui-zawa & Yama-yuri
Ki-hirato
Benisuji
Tametomo & Kio-kanoko
Hakuwo
Benisuji, Yama-yuri, Shiro-kanoko, Yaye-tengai & Saku-yuri
Kio-kanoko

Tipped in Colophon (inside back cover)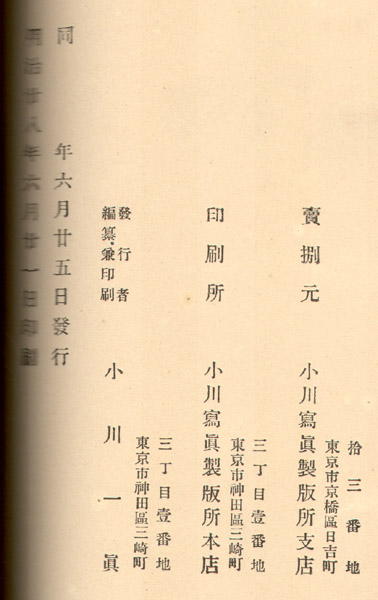 Printed: Meiji 28 (1895).6.21
Published: Meiji 28 (1895).6.25

Plates (without pics)
Shiro-kanoko
Hitoye-Tengai
Tame tomo
Shiro-kanoko, Benisuji, Hitoye-tengai & Shiro-kanoko
Kio-kanoko, Karui-zawa, Yaye-tengai & Shiro-kanoko
Karui-zawa & Yama-yuri
Ki-hirato
Benisuji
Tametomo & Kio-kanoko
Hakuwo
Benisuji, Yama-yuri, Shiro-kanoko, Yaye-tengai & Saku-yuri
Kio-kanoko