~~ Japanese Wedding Ceremonies, Old and New ~~
by Mrs. R. (Rio) Curizuka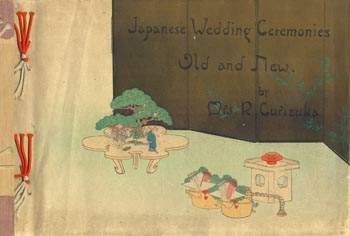 This book may be available for purchase. For more information, click here.

Curizuka (Crizuka), Mrs. R. (Rio):
Japanese Wedding Ceremonies, Old and New, Tokyo & Yokohama, sold by K. Ogawa, Tokyo and Kelly & Walsh, Yokohama, Shanghai, Hongkong and Singapore, Meiji 37 (1904), oblong 8vo (7 x 10 in - 18 x 25 cm), decorated paper wraps, cord tied, high quality light tan hosho paper in Japanese folded format, 41 color woodblock plates, unpaginaged but, including covers, 69 pp.
2 folded pages for covers
1 folded page title page
1 single sheet foldout color woodblock
20 folded pages of color woodblock plates
11 folded pages of text
34 folded pages = 68 pages + 1 single page = 69 pp.
The first 17 folded pages with woodblock images (34 color woodblock plates) depict various ceremonies and customs relating to the wedding ceremony. The next 3 folded pages (6 color woodblock plates) show styles of hair dressing.
The text portion follows the woodblock plates and the next 5 folded pages describe the preceding plates. The plates are based on a "Daimyo's Wedding (Prince Kazu-no-Miya)." Marriage customs and ceremonies for all regions of Japan (Tokyo area, Hokkaido, Okinawa etc) are shown in the plates and discussed in the text. The final 6 folded pages are text pages and they relate "The Marriage Ceremonies of Japan, the Present Day."
There is a Japanese colophon inside the back cover. While the title pages states R. Curizuka is the author, stamped on the colophon is "Rio Crizuka" with the first "u" being dropped. The colophon states that the book was printed by the Ogawa Shashin Sheehan (Ogawa Photograph Factory). I believe that K. Ogawa printed the non-woodblock portion of the book. It appears that woodblock plates were printed by Crizuka.
Title Page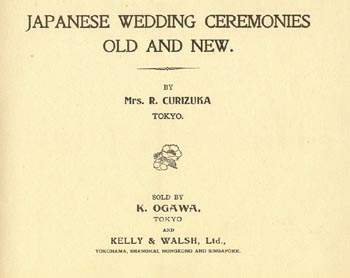 Prince of Kazu-no-Miya

(single sheet, 1 fold out and 1 fold down)

Fukui-Ken


Yamaguchi 


At Okayama 


At Joshiu 


At Awaji 
 

Okinawa (a & b) 


Noto  


Fukuoka  


At Echigo  

 
Hiyogo 


At Iyo  


At Kumamoto in the South 
Chikuzen

Hizen 


At Hiuga

Sagami (a & b) 


Tosa 


Izumo 
At Uzen (a & b)  
Oshiu

Aizu 


At Fukushima in the North  


Matsumoto (North) 
Yamanaka (North) 
Maebashi

Kishiu Wakayama (a & b) 


Kishiu 
Akita in the North

Shidzuoka Near Tokio 


Shidzuoka 


Gifu
Hiroshima

Hokkaido 


Hachijo-Oshima


Styles of Hair (Examples of the 3 double fold pages)





Text Sections



A Daimyo's Wedding, Prince Kazu-no-Miya


Marriage Ceremonies of Japan, the Present Day


Colophon (inside the back cover)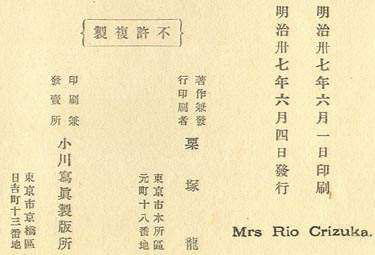 Printed: Meiji 37 (1904).6.1
Distributed: Meiji 37 (1904).6.4
Printed by the Ogawa Shashin Sheehan (Ogawa Photograph Factory)