Ogawa, K. (Kazumasa)
Costumes and Customs in Japan, Vol. II, Tokyo, K. Ogawa, large 4to (11 3/4 x 16 in - 30 x 40.5 cm), c1893-1895, decorated card covers, string ties, 12 black and white collotype plates. Title states "In Collotype" or "In Collotype and Photographic Negatives Taken by Him." Occasionally, the title will include the Kelly & Walsh imprint. This is the second part of a two part set. Each plate is protected by tissue guard and has a descriptive title below the image on the plate. Ogawa's address in Tokyo is not given as it is in the first volume of the set. The original price was 2.50 yen for each volume in this set.

One plate - "The Toilet" - is rather unusual for an Ogawa book in that is shows a young lady with no cloths from the waste up. While such photographs were common in the tourist trade of this period, it appears that Ogawa refrained from using them in the books he published.

These books did not contain a colophon actually printed on the covers or accompanying pages. I have found a Japanese language colophon on a separate insert sheet dated Meiji 28 (1895). This insert was tipped to the back cover. A copy of that insert is below.

Wenckstern first lists this set (2 volumes) as published during the 1891-3 time period. Because the vast majority of these books do not have the colophon insert, it generally is not possible to date them with precision.

I have seen this book accompanied by a color woodblock insert page. The only text information on the insert is "Costumes and Customs in Japan, Vol II."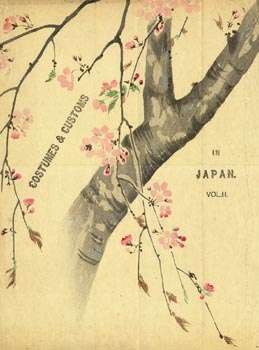 For information on Kazumasa Ogawa, click here.