Burton, W. K.
Practical Guide to Photographic and Photo-Mechanical Printing. Second Edition, Revised and Enlarged, London, Marion & Co, printed by R.R. Clark, Edinburgh, 1892, large 12mo (5 x 7 1/4 in), red cloth with black decoration and lettering on front cover and spine, numerous text illustrations, 415 pp + 46 pp of illustrated ads for Marion & Co products. An important handbook including an historical sketch of photographic printing processes and photo-mechanical printing processes. The book contains extensive and technical sections on silver printing, platinotype process, printing with salts of uranium, contact printing, mounting of prints, carbon processes, a wide variety of modern photo-mechanical printing processes (Woodbury, Stannotype, photo-lithography, collotype process, halftone processes). The book offers an important insight into the types of printing work being performed in Japan by K. Ogawa at this point in time. The title page states "W.K. Burton, Engineering College, Imperial University, Tokio, Japan."
In the Preface to this book, Burton specifically notes K. Ogawa was using many of the photo-mechanical printing processes he described in this book.
I must, on the whole, declare more indebtedness to Mr. K. Ogawa of this city than to any one else. It has been my pleasure, and certainly been to my profit, to be associated with him in much experimental work in connection with various photographic processes, mechanical amongst others. Mr. Ogawa has put in operation the greater number of the photo-mechanical process described at the end of this book on more than an experimental scale, and he has made me free to publish all results whether of our joint work or of his own. (Preface to Second Edition, pages iv-v)
The section on photo-mechanical printing is from page 274 through 415. The table of contents for this portion of the book can be found here.
When living in England, W. K. Burton was also the author of an earlier publication on photography, The A.B.C. of (Modern) Photography, London, Piper & Carter, 4th edition, 1884, a 124 page booklet which is described as "a manual of photography for beginners on the assumption that the gelatine process is now the process of the day." In an edition of this book published ca 1887 Burton, comments on the gallery of A. Farsari and Co. in Yokohama and the colorization of photographs done in there.
William Kinnimond Burton, a British citizen and recognized writer/expert on photography, arrived in Japan. He was active in encouraging photography in Japan. Ogawa became a friend of W. K. Burton and was involved in at least six books published by Ogawa. Some believe that Burton was a silent partner with Ogawa in his collotype printing business. (Worswick, Japan: Photographs 1854-1905, at page 145)

Examples of Text Illustrations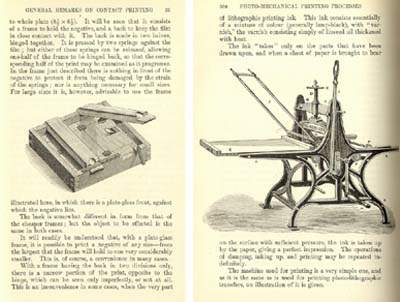 Examples of Marion & Co Advertisements at the Back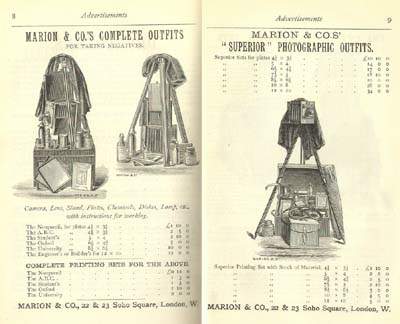 William Kinninmond Burton (1856-1899), a Scottish engineer, arrived in Japan in 1887 and immediately became a Professor of Sanitary Engineering at Imperial University of Japan, Tokyo. He helped design the water and sewage systems that would take Tokyo and other Japanese cities into the 20th century. He designed the Ryounkaku considered to be the first Japanese sky scraper. This 12 story, 220 foot tall, building in Asakusa was the tallest building in Tokyo at the time it opened in 1890. Burton was an avid photographer and noted expert in the technical aspects of photography. He published several technical works on photography. Burton had a close association with Kazumasa Ogawa, the noted Japanese photographer and collotype printer. Along with Kazumasa Ogawa, Burton was a founding member of the Japan Photographic Society (Nihon Shashinkai), Japan's first organization for amateur photographers. Burton left Japan in 1896 and went to Taiwan but returned in 1899 where he died at the age of 43. Works authored by Burton or with his photographs include:
1891, W. K. Burton and John Milne, The Great Earthquake of Japan, 1891, Yokohama, published by Lane, Crawford & Co., printed at the Tokyo Tsukiji Type Foundry, with black and white Ogawa collotypes and a lithographed map, at least two editions, oblong folio (29 x 40 cm), 70 pages of text, 30 collotype plates, map. Printed by K. Ogawa but most of the photographs were taken "by one of the authors." See 1892, below for the second edition.

1892, W. K. Burton and John Milne, The Great Earthquake of Japan, 1891, Yokohama, Lane, Crawford & Co., printed at the Tokyo Tsukiji Type Foundry, 2nd edition, green cloth with gilt lettering, oblong folio (29 x 41 cm), green cloth with gilt, 30 black and white K. Ogawa collotypes and a lithographed map, plates protected tissue guards with descriptive titles, 70 pp of text. At this time W.K. Burton was an instructor at the Imperial University in Tokyo. Printed by K. Ogawa but most of the photographs were taken "by one of the authors." For more information on this book, click here.

ca 1892, James Murdoch, Ayame-san, A Japanese Romance of the 23rd Year of Meiji (1890), Yokohama, Kelly & Walsh, London, Sampson Low, Marston & Company, Ltd and London, Walter Scott, 8vo (6 x 9 in), cardboard covers with paste on paper illustrated paper, cloth covered spine, photographs taken primarily by Kazumasa Ogawa and W. K. Burton, 77 text illustrations, 3 of which are full page, 2 pp errata, 310 pp. Some sold in a wooden box. For more information on this book, click here

ca 1893, Out-Door Life in Japan, Yokohama, photographs by W.K. Burton, text by J. Murdoch, printed by K. Ogawa, 8vo, 2 photographs per page, 25 pp. Undated but listed in the library (catalogued July 31, 1893) of the Japan Society, London, Transactions and Proceedings, Volume I, 1893.

1895, Wrestlers and Wrestling in Japan with an Historical and Descriptive Account by J. Inouye, by W. K. Burton, 1895, 4to, 12 collotype plates by K. Ogawa, 18 pp. Reported with black and white collotypes and with colored collotypes.