Condition. All three books are in Very Good condition. There is light foxing on the covers. The edges have small chips and pieces missing. All the pages are unsevered. Overall very clean and attractive.


Ogawa, K.
Takashima, S (descriptions):
Illustrations of Japanese Life, Tokyo, K. Ogawa, descriptions by S. Takashima, 1918, 12th Edition, printed on crepe paper and bound Japanese style, tied with purple twisted silk threads, 8vo (10 1/4 x 7 1/2 in - 26 cm x 19 cm). Three different books with 36 (12 x 3) images. This is three of the four 12 image books that have been recorded. Each book has 18 pages in total. This includes the covers (4 pages), the title and introduction pages (2 pages) and 12 pages of images. All pages are double folded so the actual page count is 9 double folded pages. Each book features 12 hand colored collotypes of 19th century life and customs of Japan which show people in daily occupations and activities. The images in these books focus on people rather than scenery or sights. Each image has a caption and most have an informative narrative paragraph below the image. Descriptions/captions were provided by S. Takashima, Professor in the Higher Commercial College. In addition to K. Ogawa, images are attributed to T. Tamamura and Professor Burton. However, individual images are not attributed to a particular photographer. Two of the books are in horizontal format and one is in vertical format.

For information on Kazumasa Ogawa, click here.

Below is a listing of the illustrations in these crepe paper books.


The volume numbers noted below are arbitrary and assigned by me. The actual books all have the same title and do not have numbers or information in the title page which distinguishes one from another.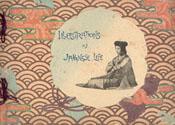 First Book (Horizontal Format)
Image of Seated Woman on Cover

Carpenters at Work,
Porcelain Ware Shop,
A Vegetable Dealer,
A Toy Shop,
Rice Planting,
Farmers in the Rice Swamp,
Vegetable Dealer's Shop,
Hakimono Clogs,
Farmers in a Yard,
The Kago (Palenquin),
The Hatsuni (First Stock of New Year's Goods)
An Ox Cart
To see the images from this book, click here.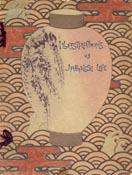 Second Book (Vertical Format)
Image of a Paper Lantern on Cover

The Suwari-Odori,
Backyard of a Teahouse,
Venturing Out in the Rain,
Sayonara,
Letter Writing,
Morning Toilet,
Buddhist Priests Conspicuous,
Two Ladies in Full Dress,
The Cherry,
A Blind Street Musician,
The Dai-Kagura
Japanese Babies
To see the images from this book, click here.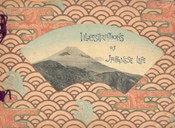 Third Book (Horizontal Format)
Image of Mount Fuji on Cover

Mother and Her Baby,
Children at Meals,
A Group of Fisherwomen,
The Tentosai Dancing,
A Miniature Garden at a Tea House
Entertaining a Guest,
Cloth Dealer's Shop,
Summer Evening on the Shijo River,
A Well,
The "Jinrikisha" Riding on a Rainy Day,
The Ainus at Dinner,
A Matsuri (Temple Festival)
To see the images from this book, click here.

The three books above are offered as a unit only.