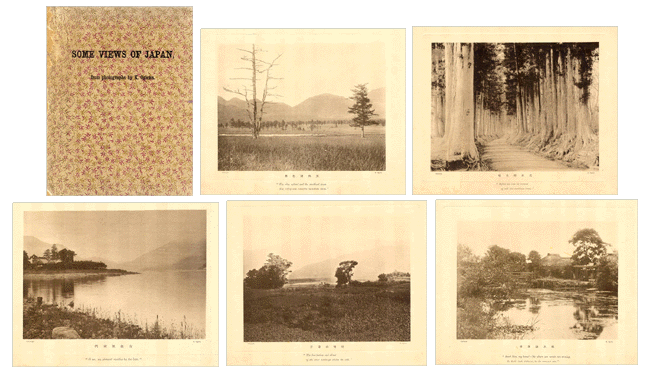 Condition. The 5 collotype plates are in Very Good condition with light scattered foxing, primarily outside the image area. The folding case is in Poor condition. The hinge between the top section and spine is almost broken. There are areas where the crepe paper covering has been broken or scraped off.

Ogawa, K (Photographs & Collotypes):
Some Views of Japan from Photographs by K. Ogawa, K. Ogawa, Tokyo and Kelly and Walsh Ltd, Yokohama, ca 1911, 5 sepia tone collotype plates in decorated crepe paper covered wrap-around case, title printed in black on top flap of case, Kelly & Walsh book price list inside top flap of the case. Each loose collotype plate is printed in recess and contains a descriptive caption in Japanese within the recessed area immediately below the image and a verse of poetry in English (Henry Wadsworth Longfellow and Felicia Hemans) immediately below that and outside the recessed area.
Measurements:
Folio Case - 10 1/2+ x 13 1/2+ in - 27 x 34.5 cm.
Collotype Plates - 10 1/2 x 13 1/2 in - 26.5 x 34 cm.
Printed Collotype Images - 7 1/4 x 9 1/2 in - 18.5 x 27 cm.
I have seen this title advertised with 12 collotype plates and believe the 5 shown on this page represent an incomplete folio from an original 12 plate unit. I have dated this unit to ca 1911 because it was listed in an advertising flyer published then.

Five Collotype Plates

Before me rose an avenue of tall sombrous trees. 
Prelude from Voices of the Night by Henry Wadsworth Longfellow


O me, my pleasant rambles by the lake.


The fascination and allure of the sweet landscape chains the will.
"Castles of Spain" from Birds Of Passage, Flight of the Fifth by Henry Wadsworth Longfellow


Seest thou my home?--'tis where you woods are waving, In their dark richness, to the summer air.
The Two Homes by Felicia Hemans


The airy upland and the woodland green, the Valley and romantic mountain scene.
Rural Walks by Felicia Hemans



Folio Case







Kelly & Walsh Book Price List (Inside Top Section of Folio Case)