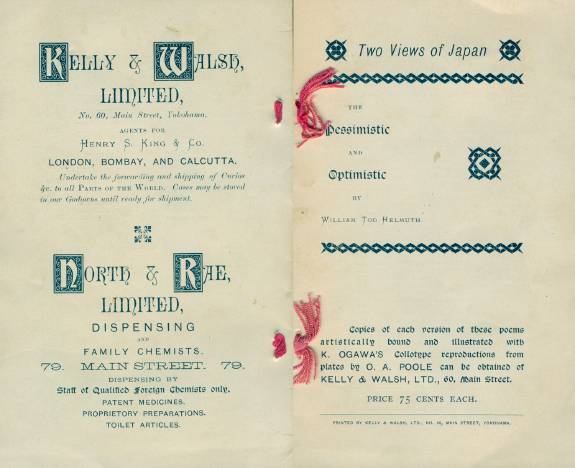 Condition. The pamphlet is in Very good condition. Solid binding. No tears, foxing, staining or markings.

Helmuth, William Tod (Poetry)
Two Views of Japan, The Pessimistic and Optimistic by William Tod Helmuth, Yokohama, Kelly and Walsh Ltd (No. 60, Main Street), ca 1911, small 12mo (4 1/2 x 7 in - 11.2 x 18 cm), pamphlet/brochure, string tied, printed paper wraps, advertising brochure, 10 black and white halftone text illustrations, 10 pages including front and back covers.
This is book price list for K. Ogawa's collotype books and an advertisement for the two books by William Tod Helmuth which contain collotypes by K. Ogawa. The two books that it is promoting can be found here (Pessimistic) and here (Optimistic).
Copies of each version of these poems artistically bound and illustrated with K. Ogawa's collotype reproductions from plates by O.A. Poole can be obtained of Kelly & Walsh, LTD, 60 Main Street. [Yokohama]
This pamphlet is not dated. I have dated it to ca 1911 because the book price list of Ogawa's works lists Scenes in the Eastern Capital of Japan (here) and that book was first published in 1911. It appears that the other books that are listed range from 1892 to 1911 in publication dates.
This publication is significant in that it contains an extensive price list for thirty-nine K. Ogawa "Collotype Albums." These are priced in dollars and cents. These items were first published in the period from 1892 ~ ca 1911. The following items which, heretofore, were not documented in my research are listed:
Celebrated Geysha of Tokyo, 2 volumes, 21 collotypes
Life and Scenes in Corea - 12 collotypes
Panoramic View of Tokio - In Boards.
Panorama of Matsushima - Coloured
Some Views of Japan - 12 collotypes
Yokohama and Surroundings - 12 collotypes
Views of Tokyo
Views of Yokohama - 22 small prints
The following items were previously documented in my research but the description might vary from information I have recorded or the information amplifies information recorded:
Nikko and Vicinity, 60 collotypes
The Nikko District, In Silk Cover, 47 collotypes
Scenes from Out Door Life in Japan, 50 scenes
Some Japanese Flowers, 3 volumes, 18 plates.
Some Japanese Flowers - 38 coloured collotypes
In the book price list the most expensive item is this listing: "Illustrations of Japanese Life.- 100 Colored Collotypes with explanation to each Picture and beautifully bound. $25.00"

All Pages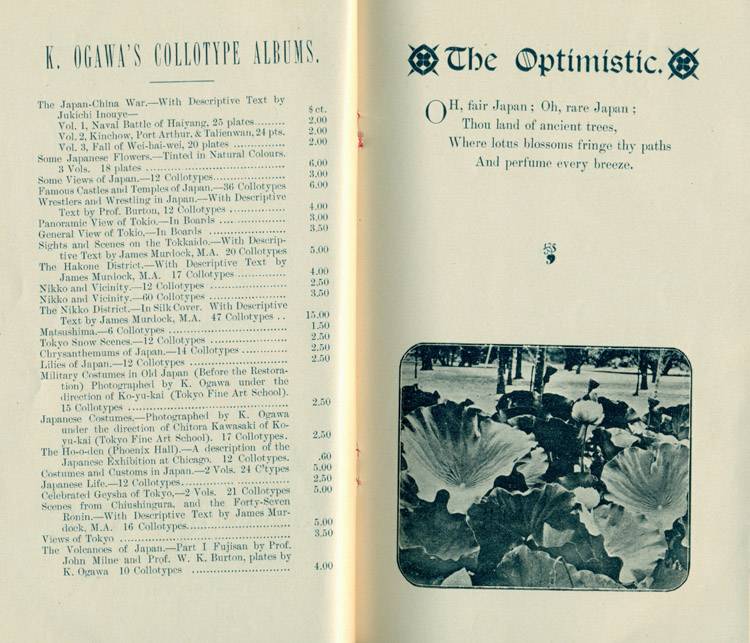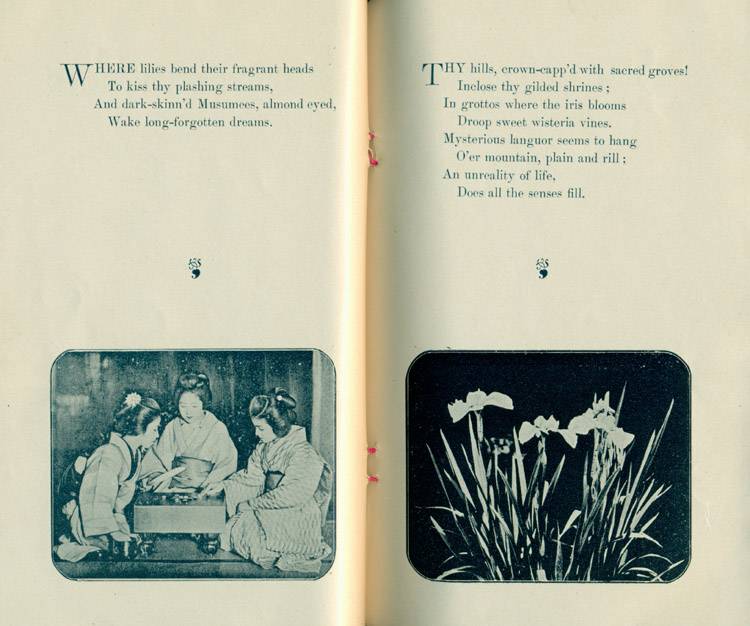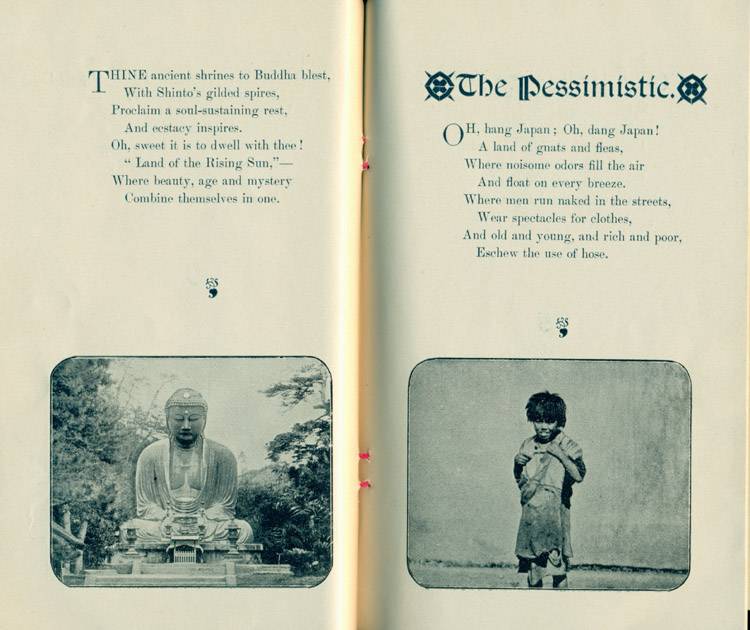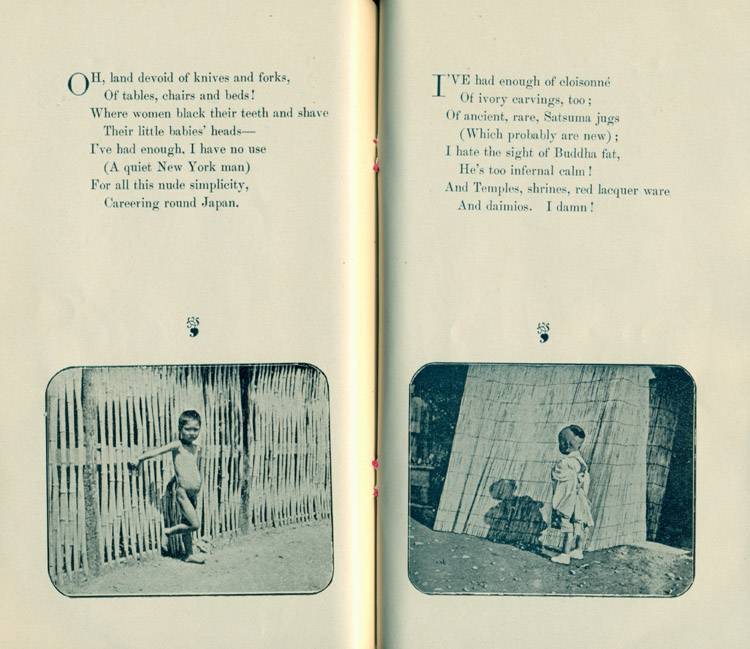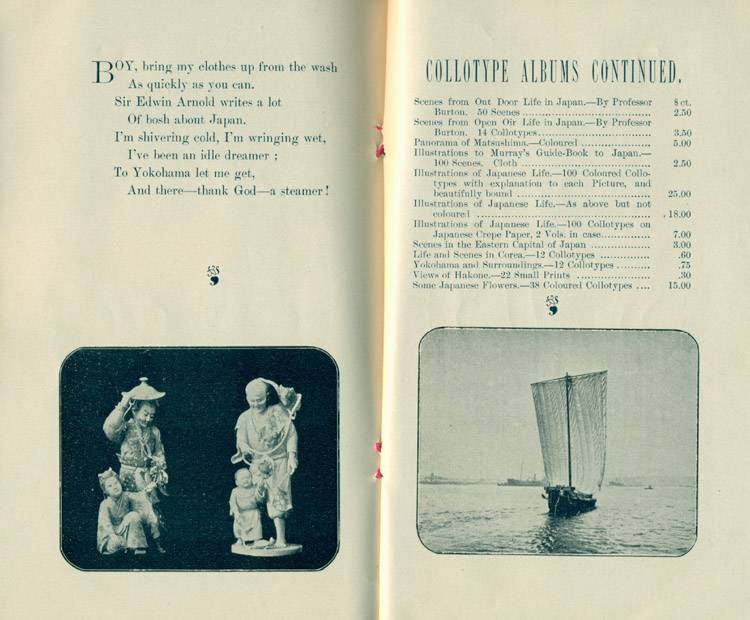 Book Price List (K. Ogawa's Collotype Albums (inside front cover and continued to inside back cover)