~~ Book 1910050301 ~~
Illustrations of Japanese Life
1910, 5th Edition
Photographs by K. Ogawa
Descriptions by S. Takashima
Hand-colored Collotypes (12) on Crepe Paper
[Focus on Women, Children, Music & Religion]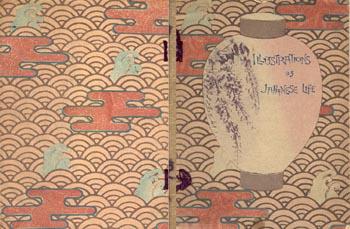 Condition. The book is in good condition. A few double fold pages have minor separation. One double fold page is completely severed.

---
Ogawa, K.
Takashima, S (descriptions):
Illustrations of Japanese Life, Tokyo, K. Ogawa, descriptions by S. Takashima, 1910, 5th Edition, 8vo, 12 hand-colored collotypes on crepe paper, bound Japanese style and tied with purple twisted silk threads, 9 folded leaves with stiffener paper in between (18 pages in total). This is one in a series of photographic album type books under this same title published by K. Ogawa.

The front and back covers account for 2 folded leaves. The first internal page has the Title Page (front) and Preface (back). The other 6 have a photograph - front and back. The focus of this book is customs and ceremonies of Japan. The photographs include, 1) The "Suw Ari-Odori", 2) Backyard of a Tea House, 3) Venturing Out in the Rain, 4) "Sayonara" (Goodbye), 5) Letter Writing, 6) Morning Toilet, 7) Buddhist Priests Conspicuous, 8) Two Ladies in Full Dress, 9) The Cherry, 10) A Blind Street Musician, 11) The "Dai-Kagura" & 12) Japanese Babies. The book is in a vertical format and measures 10 x 7 1/2 in - 25.4 x 19 cm. While the picture areas vary slightly, the norm is 7 x 5 1/2 in - 17.8 x 13.4 cm. In the preface, K. Ogawa states:
I have to acknowledge my indebtness to Messrs. Tamamura and S. Kajima, as well as Prof Burton, for sevaral of the plates in this volume.
For information on Kazumasa Ogawa, click here.
Dating this Book
Colophons, Japanese Text, Inside Back Cover
Colophon, 5th Edition, 1910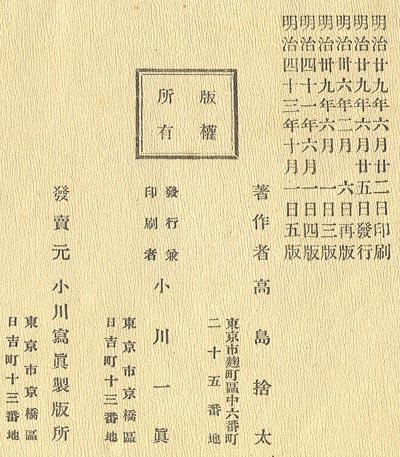 Colophon, 5th Edition, 1910
The 6 rows of Japanese writing at the right give dates and editions. Starting at the right and reading left they indicate:
Meiji 29 (1896) - 1st edition printed
Meiji 29 (1896) - 1st edition distributed
Meiji 36 (1903) - 2nd edition
Meiji 39 (1906) - 3rd edition
Meiji 41 (1908) - 4th edition
Meiji 43 (1910) - 5th edition