Ogawa, K.
Takashima, S (descriptions):
Illustrations of Japanese Life, Tokyo, K. Ogawa, descriptions by S. Takashima, 1910, 5th Edition, 8vo, 12 hand-colored collotypes on crepe paper, bound Japanese style and tied with purple twisted silk threads, 9 folded leaves with stiffener paper in between (18 pages in total). This is one in a series of photographic album type books under this same title published by K. Ogawa.

The front and back covers account for 2 folded leaves. The first internal page has the Title Page (front) and Preface (back). The other 6 have a photograph - front and back. The focus of this book is customs and ceremonies of Japan. The photographs include, 1) greeting, 2) maple garden, 3) marriage ceremony, 4) playing the koto, 5) hanami, flower picnic, 6) wrestling match, 7) the jinrikisha, 8) amevy - taffy puller, 9) shiori - dry bed fishing, 10) picking tea, 11) sewing and 12) basket peddler. The book is in a horizontal format and measures 10 x 7 1/2 in - 25 x 19 cm. While the picture areas vary slightly, the norm is 7 x 5 1/2 in - 17.8 x 13.4 cm.

For information on Kazumasa Ogawa, click here.




Illustrations of Japanese Life, 1918, K. Ogawa

Greetings
Maple Garden at Takinogawa
Marriage Ceremony
Playing the "Koto" A Japanese Musical Instrument
"Hanami" Flower Picnic
Wrestling Match

Larger Picture
The "Jinrikisha"
The "Ameya" (Taffy Puller)
The "Shiori" (Fishing on the Dry Bed)
Picking Tea
Sewing
Basket Peddler
Dating this Book
Colophons, Japanese Text, Inside Back Cover
Colophon, 5th Edition, 1910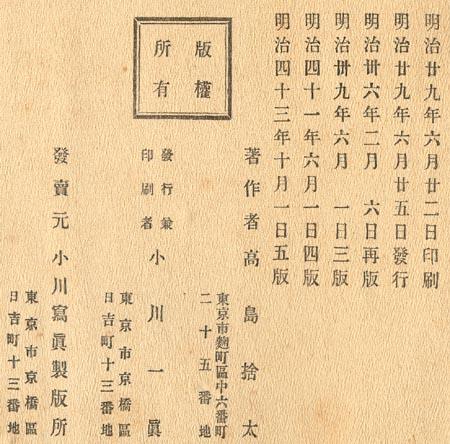 Colophon, 5th Edition, 1910
The 6 rows of Japanese writing at the right give dates and editions. Starting at the right and reading left they indicate:
Meiji 29 (1896) - 1st edition printed
Meiji 29 (1896) - 1st edition distributed
Meiji 36 (1906) - 2nd edition
Meiji 39 (1908) - 3rd edition
Meiji 41 (1908) - 4th edition
Meiji 43 (1910) - 5th edition