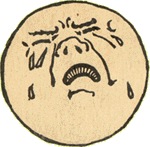 Pessimistic Version

Condition. The book is in Fine condition. No foxing, staining or marking. The binding is solid. Most of the loose tissue interleaves are present which seldom is the case.

Helmuth, William Tod (Poetry)
Poole, O.A. & O.M. (Photographs)
Ogawa, K. (Collotypes):
Fair Japan - Pessimistic Version, "Verses by William Tod Helmuth, Negatives by O.A. & O.M. Poole, Collotypes by K. Ogawa," Yokohama, Kelly and Walsh, Limited, not dated but ca 1900, small 18mo (4 1/4 x 5 5/8 in - 11 x 14.5 cm), string ties (blue string), 8 black and white collotype plates, 20 unnumbered pages. The book is printed on thick card-like paper with all edges gilt. The book was issued with loose tissue interleaves between the collotype plates and adjacent text page but they are seldom found in the book.
The 8 collotype photos are each on the left-hand page and a corresponding verse of poetry on the right-hand page. The first two pages have no illustrations, just a complete poem. The poetry/verses relate to Japan and the associated plates.
This book was also produced with collotypes by K. (Kazumasa) Ogawa. An identical book was marketed with collotypes by Taikosha. Perhaps Taikosha was an assumed name for Ogawa. However, I have never seen it associated with Ogawa.
William Tod Helmuth (1833-1902) was a noted American homeopathic physician/surgeon, poet and writer (primarily but not exclusively medical). I find no evidence that he was actually in Japan. However, in 1893 he published an article in the North American Journal of Homeopathy titled "A Glance at Japanese Medicine, Ancient and Modern." He obviously had an interest in Japan. In 1892 Dr. Helmuth authored a very similar book (with his poetry) accompanied with photographs by F. Jay Haynes titled Yellowstone Park and How It Was Named. Haynes was an early and influential western photographer (much along the line of K. Ogawa in Japan) who, in 1884, became the first officially designated Yellowstone National Park photographer. For more information on this book, click here here.
O.M. & O.A. Poole. Otis Augustus Poole was a longtime foreign resident of Japan. There is a wonderful autobiographical letter by his son, Otis Manchester Poole, on-line here. O.A. Poole and his family arrived in Japan in May of 1888 relocating from Chicago. Otis Manchester Poole (the O.M. Poole), also mentioned on the title page, was his son. They took up residence at 89 Bluff in Yokohama which remained the family home for 30 years. O.A. Poole was in the tea business and this required multiple residences and extensive traveling. It is clear that both O.A. Poole and his son (O.M.) were avid travelers and photographers. Otis A. Poole retired in 1926 and, at the age of 79, relocated to Berkeley, California. He died on April l, 1929 and his ashes were buried with his wife in Yokohama. Otis Manchester Poole returned from Japan to New Jersey in July of 1932. O.M. Poole's letter is dated May, 1964. It contains an excellent first hand account of the great earthquake that devastated Yokohama and Tokyo on September 1,1923.
Otis Manchester Poole and the Earthquake of 1923. O.M. Poole was in Yokohama and lived through the great earthquake of September 1, 1923. He recorded his recollections of Yokohama and the quake in a narrative which was published in 1968. For more information on that book, click here.
Title Page



Pages/Photographs


Left Page:
FAIR JAPAN
Oh hang Japan; oh dang Japan
A land of gnats and fleas
Where noisome ordors fill the air
and float on every breeze
Where men run naked in the streets,
Wear spectacles for clothes,
And old and yound, and rich and poor,
Eschew the use of hose.
Oh! land devoid of knives and forks
Of tables, chairs and beds.
Where women black their teeth and shave
Their little babies' heads
I've had enough, I have no use
(A quiet New York man)
For all the nude simplicity
Careering round Japan.

Right Page:
I've had enough of cloisonne
Of ivory carvings too;
Of ancient, rare, Satsuma jugs
(Which probably are new);
I hate the sight of Buddha fat,
He's too infernal calm
And temples, shrines red lacquer ware
And Daimios I damn.
Boy, bring my clothes up from the wash
As quickly as you can,
Sir Edwin Arnold writes of bosh
A lot about Japan.
I'm shivering cold, I'm wringing wet
I've been an idle dreamer;
To Yokohama let me get,
And there thank God! a steamer.


Oh hang Japan; oh dang Japan
A land of gnats and fleas
Where noisome ordors fill the air
and float on every breeze



Right Page:
Where men run naked in the streets,
Wear spectacles for clothes,



Right Page:
Oh! land devoid of knives and forks
Of tables, chairs and beds.



Right Page:
Where women black their teeth and shave
Their little babies' heads



Right Page:
I have no use (a quiet New York man)
For all this nude simplicity
Careering round Japan


Right Page:
I've had enought of cloisonne
Of ivory carvings, too;


Right Page:
I hate the sight of Buddha fat,
He's to infernal calm.


Right Page:
To Yokohama let me get,
And there thank God a steamer,
Close-up of Collotype Printing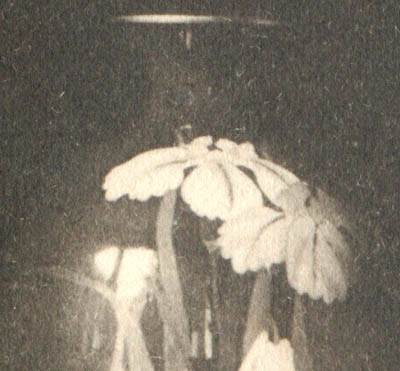 Illustration on the Back Covers: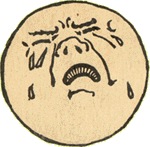 Pessimistic Version, K. Ogawa Collotypes