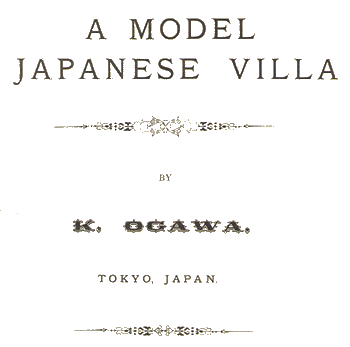 ~~ Book 1899041137 ~~
A Model Japanese Villa, Kazumasa Ogawa, 1899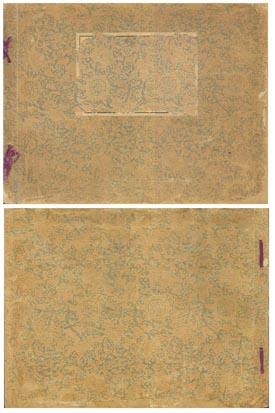 Condition. The covers are in Poor condition. The paste on title normally found on the front cover is missing. Internally, the contents are in Very Good condition. Heavy wear to cover edges and separation of cover fabric. Spine covering is worn off. Heavy toning to front and last pages but not to the actual collotype plates.
Ogawa, K. (Kazumasa)
A Model Japanese Villa, Tokyo, Ogawa, 1899 (Meiji 32), Oblong 4to (14 3/4 x 11 1/2 in - 37.5 x 29.4 cm), hard boards covered with crepe type paper with a subdued design, title label pasted on front board, string tied, gilt speckled front and back end and free papers, 15 plates containing 19 hand colored collotype images. The covering cover extends across the spine which is not typical of string tied Japanese type bound books. Two of the 15 plates contain three collotypes each while the balance have one collotype image per plate. The collotype images vary in size. The single image plates are approximately 10 x 7 1/2~8 in - 27.2 x 19.5~20. Two of the collotypes are oval images approximately the same width as the large rectangular images. The collotypes on the two pages with multiple images are each 4 x 5 1/2 in (14 x 10 cm). Each plate is protected with tissue guard that has a descriptive title in English. The book presents various aspects of an upper class Japanese residence (villa). All aspects of the home are covered from the inside formal rooms to the villa's grounds. Particular emphasis is placed on the gardens and chrysanthemum in beds and in pots. Perhaps one of the finest examples of Ogawa's expertise as a photographer and printer.

I have reviewed two copies of this book. Both have identical title pages and colophons. The books each had one plate not in the other book. The plate of an "Artificial garden" is not in this book but is in the other book. A plate titled "A row of the chrysanthemums in bed" is present in this book but not in the other one. In addition, the plates in both books were in slightly different order.

For information on Kazumasa Ogawa, click here.


[15 Plates Containing 19 Collotype Images]