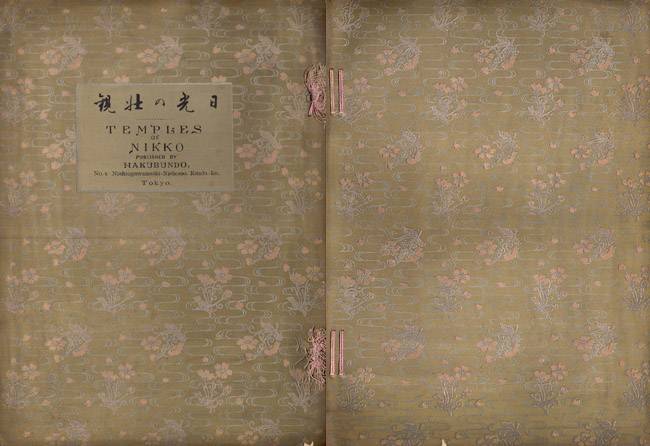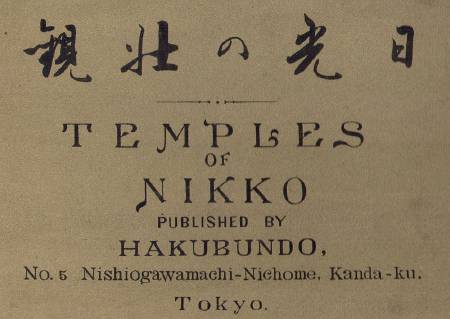 Condition. The book is in Very Good condition. The covers are lightly soiled and the edges darkened. The spine covering is not present. The binding is solid and the plates are clean.

Ogawa, K. (Kasumasa) (Collotypes):
Temples of Nikko, Tokyo, Hakubundo, 1897 (Meiji 30), large 4to (11 5/8 x 15 3/4 in - 29.8 x 40 cm), decorated card wraps with paste on label, no text, title page or tissue guards, spine covered at top and bottom for ca 6 cm, cord tied, Japanese style format reading back to front, 12 pages (plates) and a colophon page. The book contains 12 black and white collotypes with descriptive titles printed on the plate under the image. The collotypes measure approximately 7 1/2 x 9 1/2 in. The colophon attributes the plates to Kazumasa Ogawa (Ogawa Shashin Seihanjo). The decoration on the front and back cover mimic the pattern used by K. Ogawa on his "Types and Views" Series (see below). The address listed for the Hakubundo is "No. 5, Nishiogawamachi-Nichome, Kanda-ku, Tokyo."
The colophon attributes the collotype plates to the Ogawa Shashin Seihanjo (Seihan Sho) [Ogawa Photoengraving Company/Factory].
A book with the same twelve collotype plates titled Scenes in Nikko and Vicinity was published by K. Ogawa ca 1892. For information on that book, click here.
All 12 Black and White Collotypes by K. Ogawa
(click on the picture for higher resolution picture)

Interior Shrine of Iye-mitsu (Haiden)


Interior Haiden of Iye-yasu Shrine


Karamon Gate


Karamon inside


Side view of Haiden Iye-yasu
(a hall for worship in front of a Miya)


Interior Haiden (Oainoma)


Side view of Haiden Iye-yasu


Interior Haiden (Oainoma)


Interior from side view Shrine of Iye-mitsu (Haiden)


Gate of Chinese woods, from in side Tomb of Iye-mitus


Side view Door of (Haiden) Shrine of Iye-mitsu


Front view Interior of Iye-mitsu Shrine (Haiden)


Close-up


Colophon

Printed: Meiji 30 (1897).4.21
Published: Meiji 30 (1897).4.24
To return to the main K. Ogawa page, click here