Condition. The book is in Very Good condition. Approximately 1/2 inch of the paper covering at the foot of the spine is broken or disturbed. Internally clean.


Ogawa, Kazumasa (Printed By):
Dobutsu Shashin Sho (Album of Animal Photographs), Osaka, published by Gyokumeikan, printed by K. Ogawa, 12mo (7 1/4 x 5 in - 17.7 x 12.6 cm), 1896 (Meiji 29), horizontal format, red string tied, reads Japanese style from back to front, lithographed paper wraps with halftone photographs (owl in tree and hunter with dog) on the front cover, 32 black and white halftone plates with a total of 60 creatures (27 animals, 32 birds and 1 whale). Only the first plate is protected by a tissue guard. Each plate is printed on a separate page and contains the name of the animal in English and Japanese. No printing on the back of the plates.

While there is no doubt that Kazumasa Ogawa was associated with this book, his precise role is unclear to me. The colophon references the Ogawa, Kazumasa, Photograph Factory. I believe that Ogawa's printing facility produced the illustrations and perhaps the entire book. Whether Ogawa provided the photographs is not known and they do not appear to be the type of work he normally engaged in.

The halftone plates appear to fall into two categories. Some are reproductions which are obviously drawn from photographs of drawings. Others are reproductions which were made from photographs of actual subjects (living or on display). This book was produced at a time when Ogawa was actively engaged in the actual printing of books illustrated with halftone plates, both his own works and the works of others.

Kazumasa Ogawa is best know for his labor intensive collotype printing of photographic images. I believe that the book Ayame-san, A Japanese Romance of the 23rd Year of Meiji (1890) published ca. 1892 was his first significant venture into halftone printing. That book employed a very high quality form of halftone printing (Meisenbach process). For more information on that book, click here.

This book by the faster and less expensive, but lower quality, traditional halftone printing process.

For information on Kazumasa Ogawa, click here.
The 32 Halftone Plates:


Lion 



  
Tiger


 
  
Leopard


 
  
Horse 



  
Elephant



  
Fox (with a dead bird in its mouth)



  
Kangaroo (with joey in pouch) 



  
Ape (looks like a monkey) 



  
Camel 



  
Cow 



  
Wild hog 



  
Dog 



  
Goat, Bear 



  
Cat, Weasel, Otter 



  
Giraffe, Deer 



  
Badger, Sheep 



  
Rat, Wolf, Mole 



  
Pig, Ass 



  
Whale (beached with humans examining) 



  
Crane 



  
Herodias (Heron?), Seagull 



  
Eagle, Cock, Duck 



  
Mamemawashi, Crow, Dove 



  
Owl, Woodchuck, Shrike 



  
Coturnix, Wild Duck, Night Hero 



  
Snipe, House Pigeon, Pheasant - The male 



  
Pheasant - The female, King Fisher 



  
Night Hero, Grebe, Hawk 



  
Bulbul, Wildduck, Cormorant 



  
Buncho, Mandarin Duck, Lark 



  
Snipe Prover, Jay, Iwa Tsumugi 



  
Tapir (skull) 









Close-up of the Halftone Printing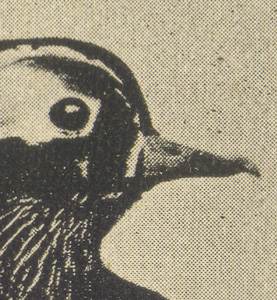 Ogawa, Kazumasa - Photograph Factory