Condition. The book is in Good+ condition. It is better than average for this type book. The covers are aged but not heavily toned or stained. The ties are in place and solid. There are numerous edge chips, breaks and tears on both covers. The left front corner of the front cover is bumped and the page tips dog-eared. The plates and tissue guards are clean and free of stains. The following defects on the plates are noted and pictured:
Plate 8 - Tonko of Shinbashi. Two edge tears. On at the middle in the margin only (.75 cm). One below the first that barely touches the image area (1.25 cm). Pic here.
Plate 10 - Tsuma-ko of Shinbashi. Small tear (.3 cm) at the middle of the left margin. Large tear (.75 x 1.75 cm) and fold under in the bottom left margin. Pic here.
Ogawa, K. (Kazumasa)
Types of Japan, Celebrated Geysha of Tokyo in Collotype and From Photographic Negatives Taken by Him, Tokyo, K. Ogawa, Folio (11 3/4 x 16 in - 30 x 40.5 cm), 1895, decorated card covers, string ties, spine not covered, no text, 12 black and white collotypes with tissue guard protectors, each one from a posed (fully clothed) photograph of a famous Tokyo geisha. On each plate the name of the geisha is printed below the image. I have examined this book with two slightly different titles on the cover. The first title does not give an address and it characterizes the plates as "In Collotype" The second title lists the address of No. 1, Iidamachi Shichome, Kojimachiku and characterizes the plates as "In Phototype." Phototype is another term for collotype. This book has "In Collotype" and no address on the front cover.
There is a rice paper printed sheet loose behind the front cover. A picture of this sheet is here.
For more information on these books with 12 plates, click here
Attributing a precise date of publication to this book is problematic. Most of the 12 plate books of this title do not have a colophon. Wenckstern's Bibliography of the Japanese Empire No. I, states:
Ogawa's Collotype-Albums of Japanese pictures, folio, Tokyo no date [1891-3] Types of the celebrated Geishas of Tokio, 12 plates, no text ($2.50) (at page 167)
This book was advertised for sale in Japan in 1894. To see an advertisement from 1894 for this and other Ogawa books, click here.
This book has a colophon laid in on the inside of the back cover. This colophon lists the printing and publication date of June, Meiji 28 (1895). The colophon is below.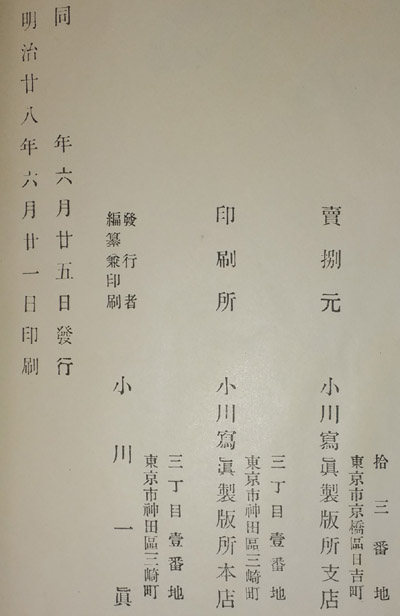 This is the same colophon found in Ogawa's Costumes and Customs books.

* A Bibliography of the Japanese Empire, Being a Classified List of all Books, Essays and Maps in European languages relating to Dai Nihon [Great Japan], Published in Europe, American and in the East from 1859-93 A.D. [VIth year of Ansei -- XXVIth of Meiji] compiled by Fr. Von Wenckstern To which is added a facsimile-reprint of: Leon Pages, Bibliographie Japonaise depuis le XVe siecle jusqua 1859. (1895)

For information on Kazumasa Ogawa, click here.
I believe that a K. Ogawa photograph (apparently not previously published in a book) from this series was later used as a colored albumen photograph in the F. Brinkley 10 volume deluxe series, Japan Described and Illustrated. Notice the similarity between the Brinkley color albumen photograph titled "A Tokyo Beauty" (Volume III, "De Luxe" Edition) and a K. Ogawa's collotype from Celebrated Geysha of Tokyo published ca 1892. This individual is also found in K. Ogawa's Types of Japan, Celebrated Geysha of Tokyo in Collotype (here). In the third plate, second image from the left at the bottom, in that book she is identified as "Tamae from Nihonbashi." (Thanks to Kjeld Duits (DUITS - Journalism & Photography from Tokyo, Japan for this information.