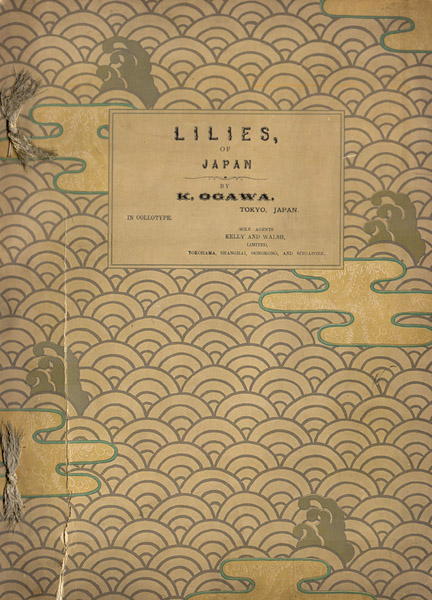 Condition. The book is in Good+ condition. There is a large vertical tear (10 1/2 in - 27 cm) at the left edge of the front cover. That has been closed with archival tape applied inside the front cover. The tear does not extend beyond the front cover. Internally all pages are sound and clean with only minor margin tears or very scattered light foxing.

Ogawa, Kazumasa (Collotype Plates):
Lilies of Japan, Yokohama, Kelly and Walsh Limited (Yokohama, Shanghai, Hong Kong and Singapore), 1895, 12 pages of black and white collotype plates of lilies, large 4to (11 3/4 x 16 in - 30 x 40 cm), stiff decorated wraps, tissue interleaves with letterpress descriptive captions, 12 pp. Each collotype is on high quality thick stock paper and protected by a tissue guard. No title page or text except for the name of each flower which is provided on the tissue interleaf preceding each print. The 12 plates present a total of 24 named lilies. The book has a tipped in colophon (Meiji 28 - 1895) on the inside back cover.
For more information on Kazumasa Ogawa, click here.
The 12 Black and White Collotypes by K. Ogawa

  

Shiro-kanoko
Hitoye-Tengai
Tame tomo
Shiro-kanoko, Benisuji, Hitoye-tengai & Shiro-kanoko
Kio-kanoko, Karui-zawa, Yaye-tengai & Shiro-kanoko
Karui-zawa & Yama-yuri
Ki-hirato
Benisuji
Tametomo & Kio-kanoko
Hakuwo
Benisuji, Yama-yuri, Shiro-kanoko, Yaye-tengai & Saku-yuri
Kio-kanoko

Tipped in Colophon (inside back cover)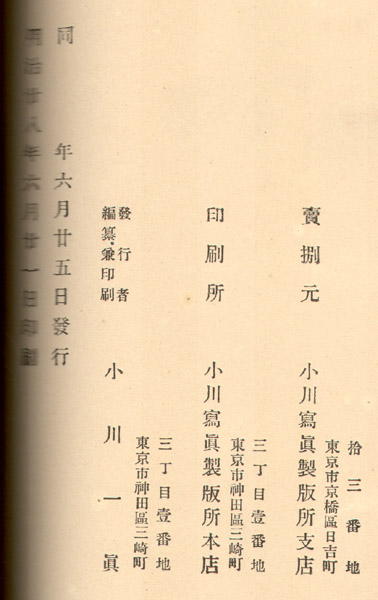 Printed: Meiji 28 (1895).6.21
Published: Meiji 28 (1895).6.25

Plates (without pics)
Shiro-kanoko
Hitoye-Tengai
Tame tomo
Shiro-kanoko, Benisuji, Hitoye-tengai & Shiro-kanoko
Kio-kanoko, Karui-zawa, Yaye-tengai & Shiro-kanoko
Karui-zawa & Yama-yuri
Ki-hirato
Benisuji
Tametomo & Kio-kanoko
Hakuwo
Benisuji, Yama-yuri, Shiro-kanoko, Yaye-tengai & Saku-yuri
Kio-kanoko