Condition. This is a non-circulating ex-library book. It is in Very Good condition. The front cover has mild soiling. The pages are clean and free of foxing, toning or staining. Three pages have tears (ca 1 inch) but they do not intrude into the text/image area. The original book has been preserved in a sturdy red cloth with gilt lettering on the spine and new front and back end papers added. All of the original book is present except the back cover. There is no card pocket for this non-checkout/reference book. Two of the 15 plates have perforated library stamps but they are outside the image area. It appears that in the binding process the book was trimmed along the vertical axis from 14 inches to 13 1/2 inches. The book has typical library markings as noted below.
Library Treatments/Markings.
Library Binding.

Back Cover: Dewey decimal number.
Inside Front Cover: Library book plate
Back of Last Free End Paper: Withdrawal/reacquisition stamp and location handstamps ("Reference" "SS Deck Two").

Actual Book.

Inside Front Cover: Label and library book plate (handstamped).
Title Page (front): Perforated library marking at lower right corner.
Title Page (back): Dewey decimal number in pencil.
Preface (front): Stamped number at bottom right ("M4383086").
6th Plate: "A Young Warrior" - perforated library marking at lower right corner, in margin outside image and text area. Handwritten ink number ("M4383086"), in left margin outside the image and text area.
15th Plate: "Warrior with Shield" - perforated library marking at lower right outside image but on the last word in the text area.
Edges. All three edges have a library handstamp.
Original size: 10 1/2 x 14 in - 26.5 x 35 cm.
This Book: 10 1/2 x 13 1/2 - 26.5 x 33.8 cm.

Ogawa, K. (Kazumasa)
Military Costumes in Old Japan, Photographed by K. Ogawa, Under the Direction of Chitora Kawasaki of Ko-yu-kai (Tokyo Fine Art School), Tokyo, K. Ogawa, 1895 (Meiji 28), large 4to (10 1/2 x 13 3/4 in - 27 x 34 cm), preserved in library binding, card covers with front cover illustrated (back cover not present), ©1893 by C. B. Woodward, St Louis, "manufactured" by National Chemigraph Co., St Louis, 2 page preface, 15 black and white halftone ("Chemigraph") plates. Each plate with a single image and descriptive title and a paragraph of information. The plates reproduce Kazumasa Ogawa photographs of military wear and equipment, actually being worn and carried, from the Fujiwara epoch (10th - 12th centuries) through the Ashikaga epoch (15th - 16th centuries). The very high quality halftone images are printed on glossy medium thickness paper. The image areas vary but generally are 6 x 8 inches.
Date of Publication. Wenckstern lists the date of publication for this book as 1894. You often see it listed with the date of 1893, the stated copyright date. I have placed the date of publication as 1895 because I have personally examined a copy with a tipped in K. Ogawa colophon showing printing and distribution dates in June of Meiji 28 (1895). I believe the book, or the contents, was printed in St. Louis in 1893. They were probably then shipped to Japan where the Ogawa enterprises (K. Ogawa, Ogawa Shashin Seihanjo and Ogawa Shuppanbu) assembled them, added the Japanese language colophon slips and began marketing them in mid-1895.
Covers. The front cover has a subdued pale green and white lithograph design featuring armor. Within a framed area is a halftone image of an armored samurai with bow and arrow drawn. The back cover has no illustration or text (no back cover in this book). The covers are thick card stock. The right side of the front cover is attached to a flexible cloth type strip which allows the front cover to be opened without bending the actual cover. Covering the cloth strip is a card stock strip matching the rest of the cover. This strip is often missing.
"Chemigraph" Illustrations. The illustrations in the book are reproduced by a process which was trademarked as "Chemigraph." They are high quality halftone prints. When viewed under x10 magnification you see a very distinct screen pattern in dark areas of the image. As the image turns lighter, the screen pattern is not visible and the image is created a by pattern of black and gray dots. This process creates an image with a greater range of tones than one normally associates with halftone images. I have seen these plates described as collotypes. To the unaided eye the quality and range of tones does appear very close to that of a collotype print. However, under magnification, it is clear that a halftone process has been used. A close-up of the pattern is shown below.
For information on Kazumasa Ogawa and his books, click here.

Title Page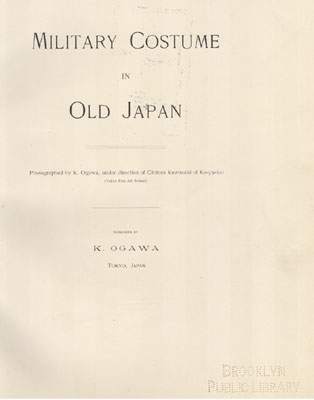 Perforated Library Stamp

To see the Preface, click here.
To see the Copyright notice, click here.
All 15 Plates in This Book
Titles are those Printed with the Plate
A General of the Fujiwara Epoch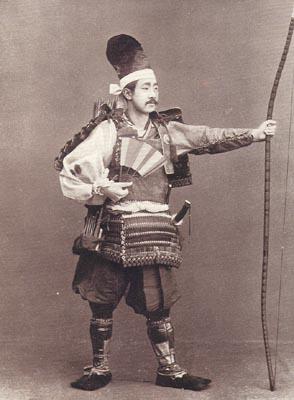 A Knight of the Kamakura Period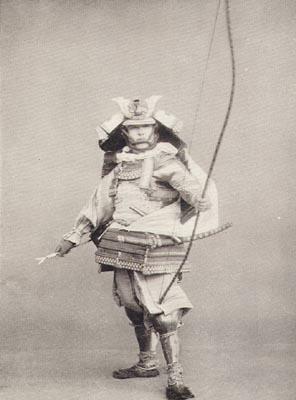 A Young Warrior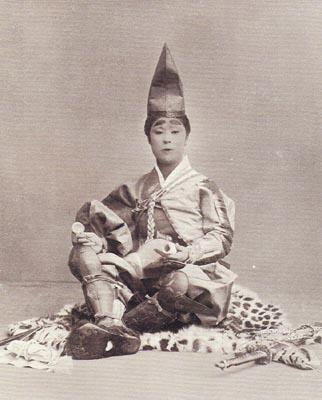 Perforated Library Stamp

Warrior of the Nanhoku-cho Period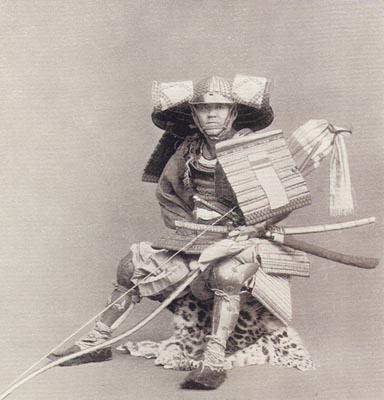 Warrior of the Ashikaga Period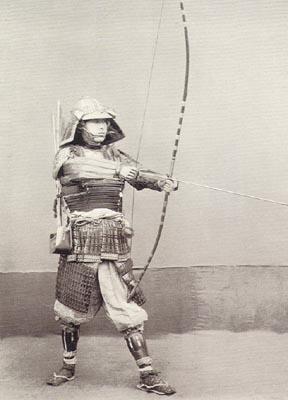 Warrior with Shield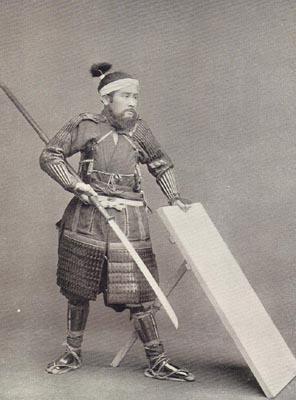 Perforated Library Stamp


Close-up Showing ("Chemigraph) Halftone Composition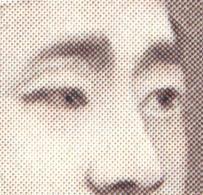 No Colophon