Cover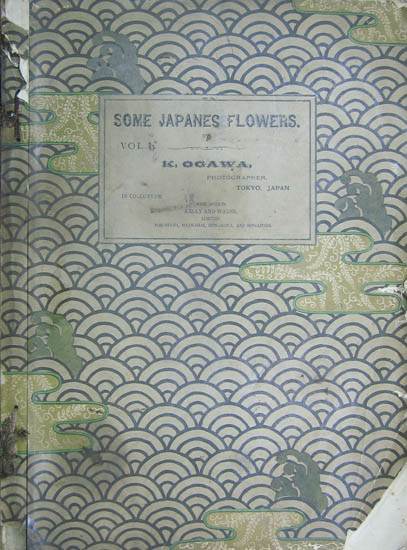 Condition. The covers are in Poor (front) to Good+ (back) condition. The plates are in Good to Very Good condition. The front cover is in Poor condition and appears to be have been severed and then reattached adjacent to the spine with linen tape which is again coming detached. The string ties are solid but heavily soiled. The front cover has a large piece missing at the bottom right corner (triangular - 5 x 8 x 6 cm). Pieces of the front cover are missing at the top adjacent to the spine and there is a 3 cm tear in the right edge at the middle. The front and back covers have moderate soiling and scattered stains. The back cover is complete and in Good+ condition. The first plate (Lily) has a corner bend and scrapes along the right edge (Good+). The following 5 plate are in much better condition (Very Good) with only light scrapes or edge bends. The plates have light foxing with no significant intrusion into the image area of the plate. Plate 6 (Iris Kaempferi) has molting (blotches of discoloration) in the image are which appears to be a aging process.

Ogawa, Kazumasa (Color Collotype Plates):
Some Japanese Flowers. Vol. I, K. Ogawa, Photographer, in Collotype, Yokohama, Kelly and Walsh Limited (Yokohama, Shanghai, Hong Kong and Singapore), 1895 (Meiji 28.6.21), 6 color collotypes ("chromo-collotype") with tissue interleaves, issued with no text or title page, small folio (11 3/4 x 16 in - 30 x 40.5 cm) ), 6 pp. Cardboard covers are the standard "Types and Views" series covers used during the period of 1892-1896. The name of flower printed in letter press below each flower. No text on tissue guards. Colophon dates the book to Meiji 28 (1895).
Books of this type and title (Some Japanese Flowers) have been reported with 6, 10, 12, 18, 33, 37 & 38 collotype plates. Wenckstern states: "Flowers, Some Japanese, several editions, containing from 10 to 38 Plates, 1894-96."
Several of these collotypes appeared later (1897) in Japan, Described and Illustrated by the Japanese, Written By Eminent Japanese Authorities and Scholars by F. Brinkley. For information on those books, click here. To see the Ogawa color collotypes in the 15 section Brinkley book published in 1897~8, click here. .
For more information on Kazumasa Ogawa, click here.
The 6 Color Collotypes by K. Ogawa