Condition. Both books are in Very Good condition. The condition is much better than the norm. The covers have light soiling and minor edge wear, particularly at the corners. There are ca 1cm stain areas in the areas under the cord ties. On Volume II one of the two bottom cord ties is broken. The back cover of Volume II has a 3 x .5 cm scraped area at the bottom edge. The binding of both books is solid and tight. The plates are clean and free of foxing or staining.

Ogawa, K. (Kazumasa)
Costumes & Customs in Japan in Collotype and From Photographic Negatives Taken by Him, Volumes I and II, Tokyo, K. Ogawa, large 4to (11 1/2 x 16 in - 30 x 40.5 cm), c1895 (Meiji 28), decorated card covers, string ties, each volume with 12 black and white collotypes on heavy paper stock and each protected by a tissue guard with no text or lettering. The term phototype is the same as collotype. The collotype plates have the descriptive title printed directly on the plate below the image.
These books did not contain a colophon actually printed on the covers or accompanying pages. However, they both have Japanese language colophon on a separate insert sheet dated Meiji 28 (1895). A copy of that insert is below.
One plate in Volume II - "The Toilet" - is rather unusual for an Ogawa book in that is shows a young lady with no cloths from the waste up. While such photographs were common in the tourist trade of this period, it appears that Ogawa refrained from using them in the books he published.
For information on Kazumasa Ogawa, click here.
Volume I Plates
Volume II Plates

A Japanese Dancing-Girl





A Japanese Dancing-Girl





A Studying the piece<





Shinto Vestal Virgins (Kasuga Temple, Nara)





Dancing at Koyo-Kwan (Maple Club) in Shiba





Maple-Dance at the Koyo-Kwan





The Toilet





A Letter





Outdoor Winter Costume





Fisher-Maidens





A Family Meal





Sayonara!


Japanese language colophon slip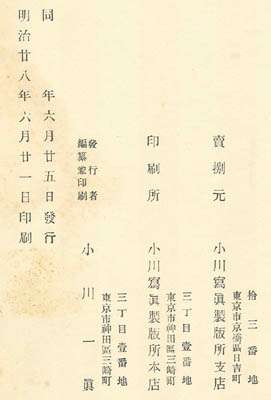 Printed: Meiji 28 (1895).6.21
Distributed: Meiji 28 (1895).6.25