~~ Book 1892080103 ~~
Scenes From the Chiushingura and
the Story of Forty-Seven Ronin
Collotyes by K. Ogawa
Descriptive Text by James Murdoch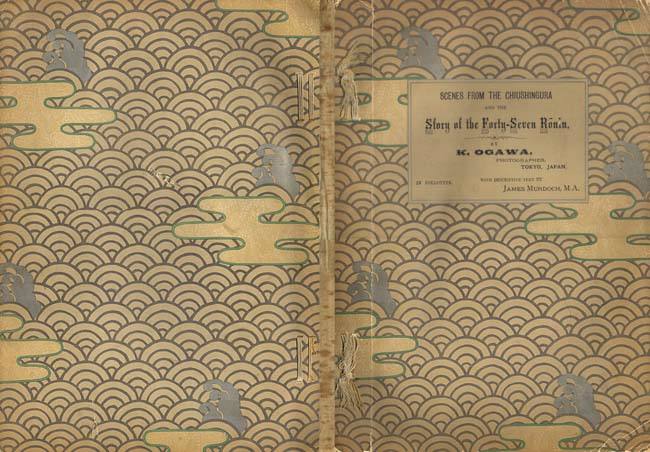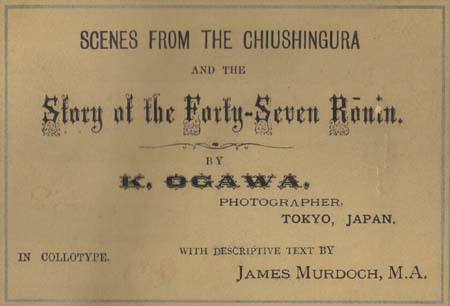 Ogawa, K(azumasa) (photographs/collotypes)
Seibei, Kajima (photographs)
Murdoch, James, M.A. (text):
Scenes From the Chiushingura and the Story of Forty-Seven Ronin, by K. Ogawa, Photographer, Tokyo, Japan, In Collotype, with Descriptive Text by James Murdoch, M.A. , Tokyo, folio (11 x 15 3/4 in - 28 x 39.6 cm), Meiji 25 (1892), cord tied, illustrated wraps, 17 black and white collotypes protected by tissue guards, 52 pp. The book recreates a very famous incident in 1701 in which Asano Naganori (Lord Asano) was required to commit harakiri. His forty-seven samurai bodyguards, then reduced to the status of ronin, or masterless samurai, took revenge two years later by assassinating Lord Kira Yoshinaka, the individual responsible for Naganori's death. The ronin were then required by the Shogun to commit harakiri and buried with their master. The 17 collotype plates depict key events and settings in the story. Images involving actual characters are reenacted for the photographs.
In a preface remark, Ogawa states:
I have to thank Mr. Kajima Seibei for his kind assistance in taking the photographs of plates V and XV. K. Ogawa
Specifics:
Page Size - Folio size. All pages are 11 x 15 3/4 in - 28 x 39.6 cm.

Covers/Binding - The covers are medium thickness paper wraps with lithographed design. The covers are the standard style "Scenery and Types of Japan" (see below) used by K. Ogawa on his books during this period. The pages are bound with cord ties (2 visible). The entire spine is covered by an embossed silk cloth..

Tissue Guards - All 17 plates are tissue guard protected. In some books the tissue guards have numbers the descriptive caption and in others they are blank.

Black and White Collotype Plates - Each collotype plate is on thick paper stock and also bears the plate number and short descriptive title. The image areas are generally 8 1/2 x 11 in - 22 x 28 cm.

Page Count. The text pages of the book are numbered. The last numbered page is number 52. The 17 collotype pages, each protected by a tissue guard, are interspersed among the text pages. At the front there is a credit for plates V. to XV and at the rear colophon page. These two unnumbered pages are not counted in the 52 numbered pages..

Earlier Edition. Ogawa advertised another version of this book (ca 1891, Scenes From the Chiushingura and the Story of Forty-Seven Ronin. That book was stated to have 20 collotype plates and priced at 5 yen.



Collotype Plates
All from K. Ogawa Photographs Except V and XV.
Upper 1 inch of image of many plate cropped because of scanner limitations.
Not Numbered - Harakiri of Lord Assano.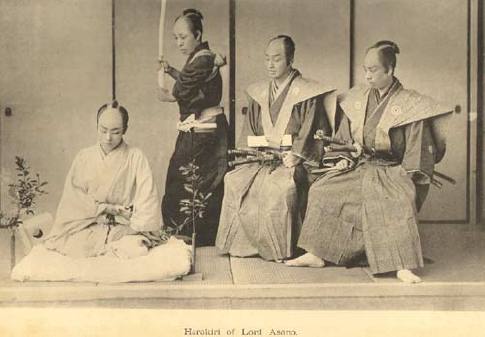 I. Sengakuji - The Well in which the head was washed.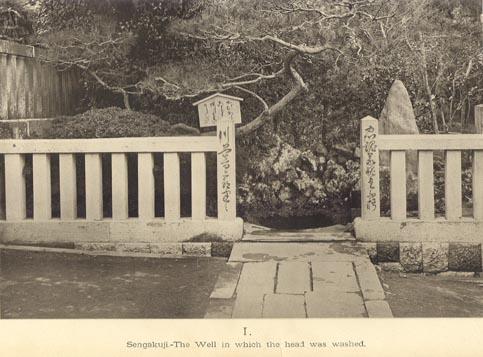 II. Sengakuji - Oishi's tomb.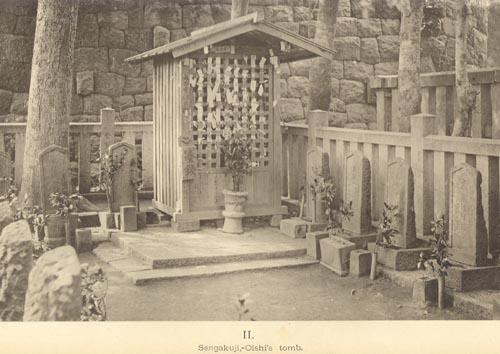 III. Kamakura.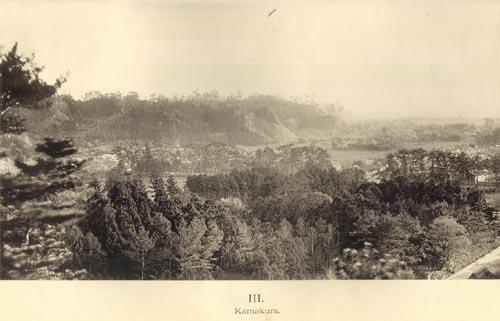 IV. Daibutsu.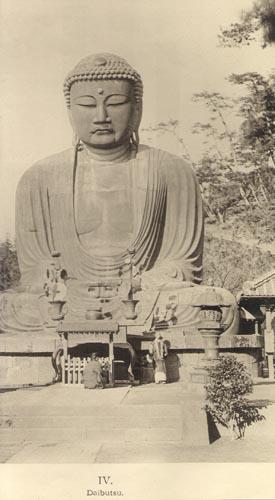 V. Lady Enya recognizes Nitta's helmet. (Kajima Seibei)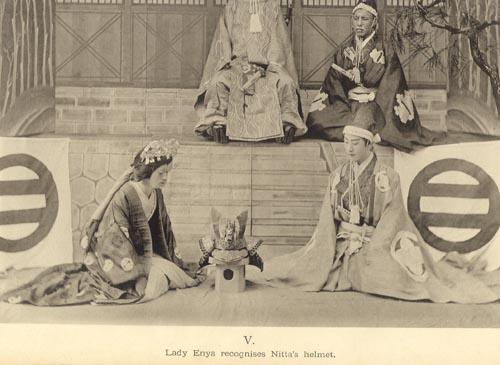 VI. Honzo and Wakasanosuke.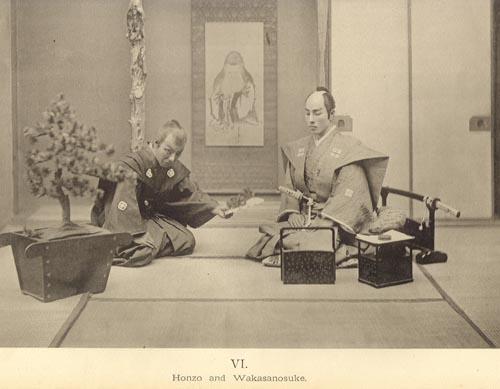 VII. Enya's attack on Kira.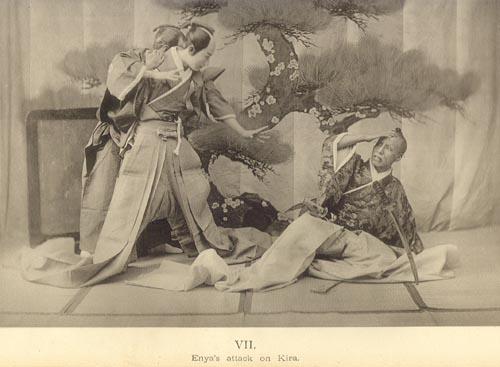 VIII. Murder of Yoichibei.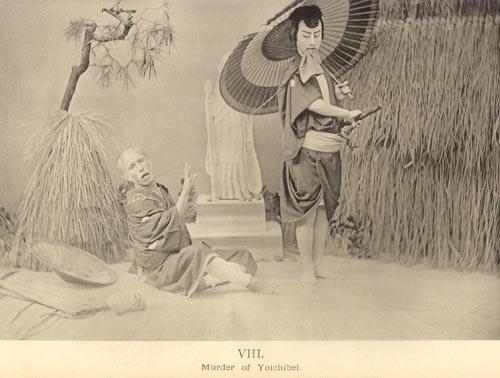 IX. Parting of Okaru and Kampei.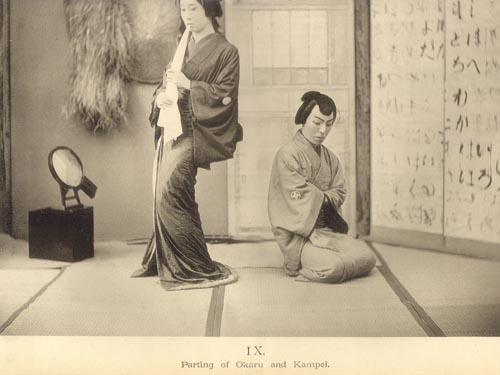 X. Oishi reading the secret despatch.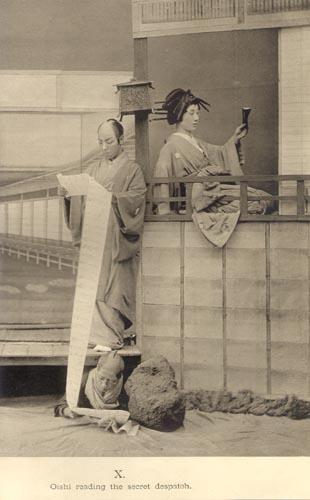 XI. Tonase and Konami on their way to Yasashima.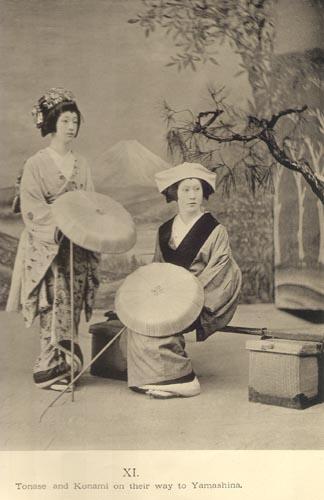 XII. Rikya slays Kakogawa Honzo.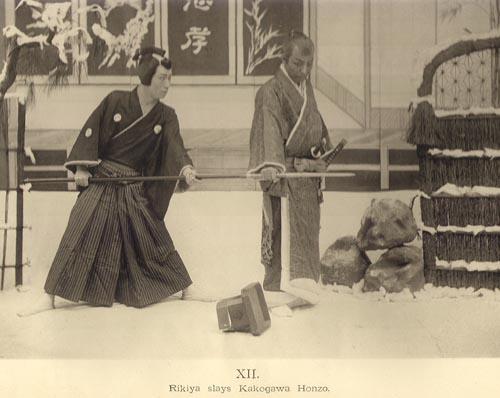 XIII. Ama-kawaya Gihei put to the test.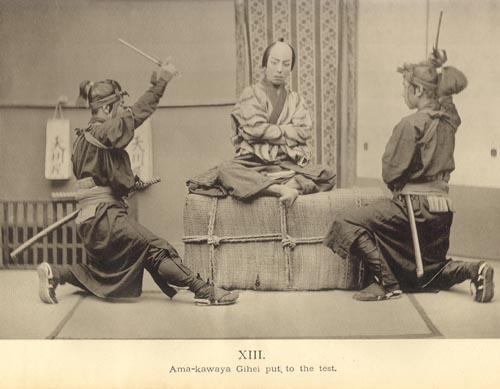 XIV. The discovery of Morono (Kira).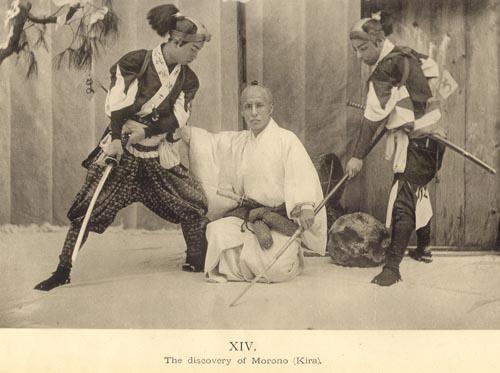 XV. The Ronin outside the Ekoin (Kajima Seibei)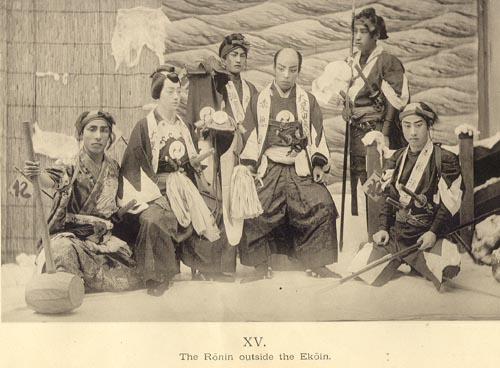 XVI. Lord Tsuchiya meeting the Ronin at Riyogoku-bashi.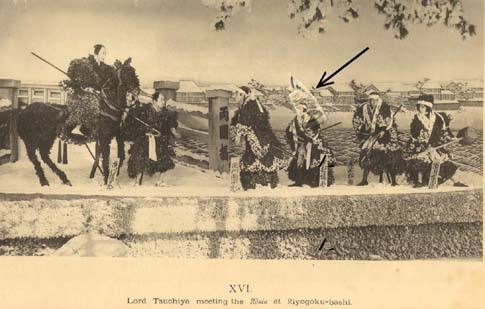 Gouge on plate.

Colophon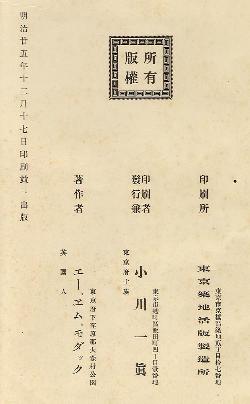 Meiji 25 (1892).12.17
Spine



Completely covered in fabric.