Condition. The book is in Fair condition. The front cover is present but completely severed along the left (binding) side. The back cover is firmly attached. Front inside cover has a bookplate reading "De laBibliotheque Louis Becker." Both front and back covers have wear, light soiling and pieces missing, particularly along at the corners. Internally the book is clean and free of significant faults. The Kelly and Walsh insert has some light creasing but is very clean.
---

Ogawa, K. (Kazumasa)
Japanese Life, Yokohama, Kelly & Walsh, Folio (11 3/4 x 16 in - 30 x 40.5 cm), ca 1892, decorated card covers, string ties, 12 black and white collotype plates with a total of 27 different images. There are 7 plates with one image each and 5 plates with 4 images each. Each plate is protected by tissue guard and has a descriptive title below the image on the plate. Many seldom seen images to include "Darby and Joan (an elderly couple tending to chores) and an "old-time policman and his catch." This books should not be confused with the K. Ogawa books (8vo) under a similar title, Illustrations of Japanese Life. The images in that series are not found in this book. The book is accompanied by a Kelly & Walsh "Sole Agents" color woodblock insert page.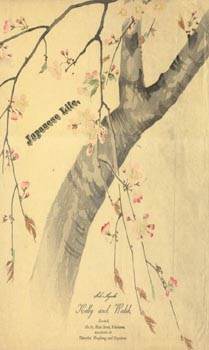 For information on Kazumasa Ogawa, click here.