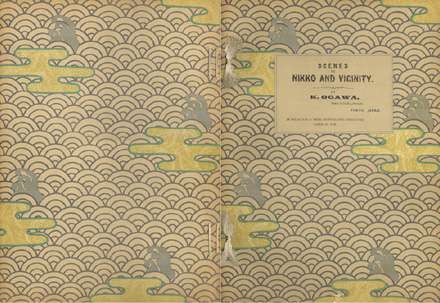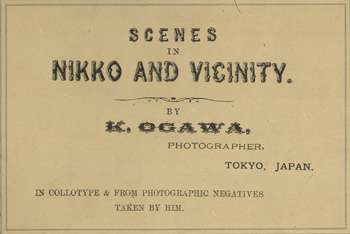 Cover Title
---
Condition. The book is in Very Good condition. There is a 1 inch tear along the bottom edge of the front cover. Each plate has the plate number written lightly in pencil at the top. Some light foxing, primarily on the tissue guards.
---

Ogawa, K. (Kasumasa):
Scenes in Nikko and Vicinity by K. Ogawa, Photographer, Tokyo, Japan in Collotype & from Photographic Negatives Taken by Him, Tokyo, Ogawa, ca 1892, folio (11 3/4 x 16 in - 30 x 40.5 cm), no text, cord tied, 12 pp. The book contains 12 black and white collotypes with descriptive titles printed on the plate under the image. Each collotype has a tissue guard type protector. The collotypes measure approximately 7 1/2 x 9 1/2 in. There is no colophon. Wenckstern notes this book was published in the period between 1891-1893. Except for the title, the card wraps of this book are identical to the Geyshas of Tokyo book. Wenckstern notes another K. Ogawa book with a similar title - "Nikko, General view of.... 13 plates, no text" - was published in 1893.
All 12 Black and White Collotypes by K. Ogawa
(click on the picture for higher resolution picture)

Interior Shrine of Iye-mitsu (Haiden)


Interior Haiden of Iye-yasu Shrine


Karamon Gate


Karamon inside


Side view of Haiden Iye-yasu
(a hall for worship in front of a Miya)


Interior Haiden (Oainoma)


Side view of Haiden Iye-yasu


Interior Haiden (Oainoma)


Interior from side view Shrine of Iye-mitsu (Haiden)


Gate of Chinese woods, from in side Tomb of Iye-mitus


Side view Door of (Haiden) Shrine of Iye-mitsu


Front view Interior of Iye-mitsu Shrine (Haiden)


Close-up

To return to the main K. Ogawa page, click here