~~ Book 1892040611 ~~
Costumes and Customs in Japan
Kazumasa Ogawa, c1892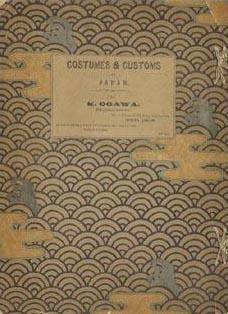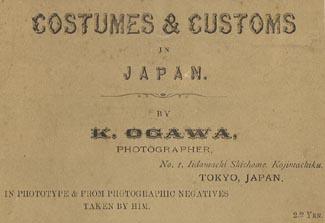 Condition. The book is in Good condition. The covers have numerous chipped and torn areas but they are firmly attached by the cord ties. The plates have light to moderate foxing in the margins but the image areas are clean. One plate has a 3/4 in tear in the margin. Paper is light tan and supple, not brittle.
Ogawa, K. (Kazumasa)
Costumes & Customs in Japan in Phototype and From Photographic Negatives Taken by Him, Tokyo (No. 1 Iidamachi Shichome, Kojimachiku), K. Ogawa, Folio (11 1/2 x 16 in - 30 x 40.5 cm), ca 1892, decorated card covers, cord ties, 12 black and white collotypes on heavy paper stock and each protected by a tissue guard with no text or lettering. The term phototype is the same as collotype. I believe this is one of the very few times Ogawa used that term instead of collotype. The collotype plates have the descriptive title printed directly on the plate below the image. As is typical of these books, there is no colophon. The cover design is the same as found other Ogawa collotype books of this period (stylized scale pattern with waves in silver). I believe this is one volume of a two volume set, both with this title, that was published c1892. However, the volume does not indicate it is a part of a set. While all lettering is in English, the book is assembled Japanese style with the title cover at the back and intended to be opened and read from back to front. The cover bears a printed price of "2.50 Yen."

For information on Kazumasa Ogawa, click here.