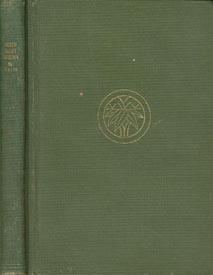 Davis, Reverend J.D. (Jerome Dean):
Sketch of the Life of Joseph Hardy Neesima LL.D, President of Doshisha University, Kyoto, 1915 (Taisho 4), Japan, 12mo, green cloth with gilt decoration and lettering on spine, 163 pp (5 page appendix "The Later Development of Doshisha" dated May, 1915, added), printed on ribbed paper, only illustration is collotype frontispiece of Neesima.
Joseph Hardy Neesima, a Japanese educated and ordained a Christian minister in America, bridged the gap between the Christian faith in the United States and the newly opened Meiji era Japan. He is probably best known as the founder of Doshisha University in Kyoto. The biography starts with birth in 1843 in Tokyo. In June of 1864 he began his one year voyage to Boston on the American schooner the Wild Rover. The owner of the ship, Alpheus Hardy, took him under his care and provided for his education at Phillips Academy in Andover, Mass and Amherst College where he graduated in 1874. He was ordained an "evangelist" and appointed to the Japan Mission of the American Board. He returned to Japan in December of 1874 after raising funds to found a Christian college in his native country. The Christian school he first established was the genesis of the Doshisha University in Kyoto. The majority of the book covers Neesima's work in founding the Christian school in 1876, sustaining it in the formative years and evolving it from a school for training Christian preachers and evangelists to a Christian university (1883). The biography traces his life to his death in 1890. The biography was written by a close associate of Neesima and published in the year of his death. It provides a remarkably detailed and well informed account of the man, his commitment to the Christian faith and his goals accomplishments and ideals.
Title Page


Frontispiece (Collotype) Portrait of Joseph Hardy Neesima


Chapter First (pages 1-14)
Birth, Early Surroundings and Start from Japan.

Chapter Second (pages 15-36)
Trials and Preparation.

Chapter Third. (pages 37-48)
Laying Foundations.

Chapter Fourth. (pages 49-72)
Marriage, Trials, Work.

Chapter Fifth. (pages 73-116)
Broadening Plans; Tour Abroad

Chapter Sixth (pages 117-128)
Last Days of Work, Sickness, Death and Burial

Chapter Seventh (pages 129-158)
Mediations, Character, Lessons.

Appendix (dated May, 1915) (pages 159-163)
The later Development of Doshisha

Each Chapter is preceded by a page of poetry