Tajima, Shiichi (editor):
Masterpieces of Motonobu With Critical Descriptions and A Biographical Sketch of the Artist, Tokyo (52 Nichomachi, Shitaya-Ku), 1904, Shimbi Shoin, 2 Volumes, large Folio (16 1/2 x 12 1/4 in - 42.5 x 31 cm), silk covers with beveled edges tied with blue string, front cover illustrated and with gilt lettering, all edges with gilt (top, side & bottom), Shimbi Shoin edition number and signature indicating the number of the book in a printing of 2,000, one hundred (100) high quality full page black and white collotype plates. The first volume contains (all in English) an "Editorial Notice" (1 page), "Biographical Sketch of Motonobu Kano" (3 pages) and listing of plates followed by 51 plates. The second volume has the listing of plates followed by 49 plates. The plates are sequenced "in no particular order" (per the "Editorial Notice") but appear to be organized in units based upon the source/collection of the original work of art. Each grouping is preceded by a tissue guard with descriptive information on the plates that follow. The plates are printed on one side only of thick high quality paper and the collotype images are of excellent quality.



Plates with Examples of Illustrations
(All Black & White Collotype Images)
List of Plates




Volume 1


Plates
1-2     Four White-haired Men and Seven Wise Men


3-14    Flowers and Birds Near a Waterfall


15-22   The Four Accomplishments
23-25   Landscape and Wild Geese
26-33   Ramblers Among Hills
34-41   Moon-light Landscape
42-43   Wild Geese and Crows

44-51   Snow Scenes





Volume 2


Plates
52-55 	The Famous Eight Scenes of Hsiao and Hsiang

56-63 	Landscapes


64-65  	Waterfalls: Rapids and Whirlpool
66 	Landscape
67 	Landscape and Lake Pavilion
68 	Landscape and Figures

69-71 	Sakyamuni: Small Birds


72 	Sakyamuni, Dharma, Lin-chi
73 	Dharma Grossing the River
74 	Putai (Hotei)
75 	The High-Priest P'u-hua
76-78 	Landscape: Birds and Flowers
79-88 	Panoramic Account of the Destruction of Shuden Doji

89-96  	Panoramic History of the Image of Sakyamuni installed
        in the Temple Seiryoji


97-98 	The Four Accomplishments
99-100 	Flowers and Birds of the Four Seasons

Close-up of Printing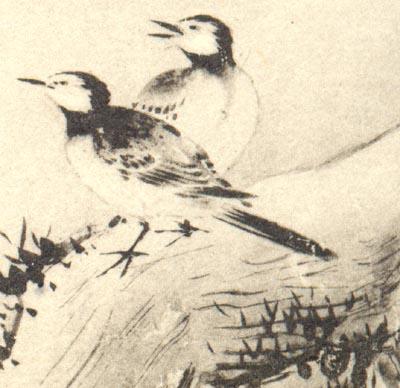 Dating the book. The Full Title Page Bears the Date MCMIV (1904)
Colophon (Rear of Book) - Same in Both Volumes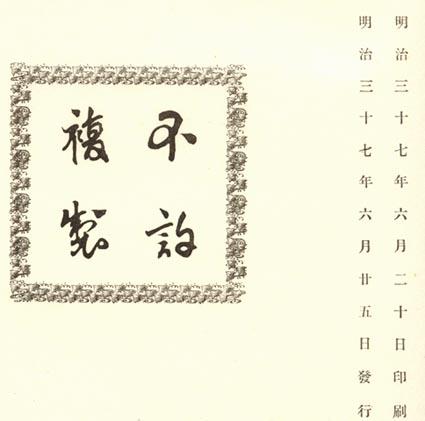 Click on Image for Complete Title Page
The two rows of charcters at the far right indicate the following (going from the right row to the left).
Meiji 37 (1904), June 20, Printed
Meiji 37 (1904), June 25, Distributed