~~ Fujiyama ~~
by Frederick Starr
(Ofuda Hakushi), 1924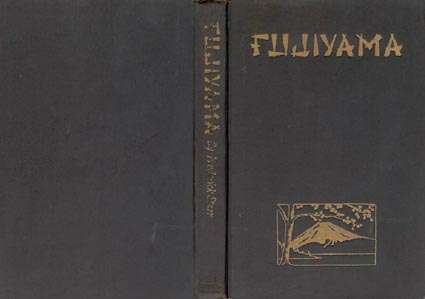 Starr, Frederick (September 1858 – August 1933):
Fujiyama, The Sacred Mountain of Japan, Chicago, Covici-Mcgee Co, printed by W.F. Hall Printing Co., 1924, 8vo (6 1/8 x 9 in - 16 x 23.5 cm), black cloth with gilt title and decoration on front cover and gilt lettering on spine, top edge trimmed and stained black, right and bottom edges untrimmed, color illustration inside front and back covers extending onto the adjacent free end page, frontispiece photograph of Frederick Starr and Shibata Reiichi, 41 additional plates of black and white half tone illustrations which reproduce photographs, drawings and woodblocks, 158 pp.
Frederick Starr, a professor of anthropology at the University of Chicago, made several trips to Japan and three ascents of Mt Fuji (1913, 1919 and 1923). In this book he presents an exceptionally detailed and illustrated discussion of Mount Fuji and the physical and social aspects of the mountain. Starr covers the physiography, vegetation, and geology of Mount Fuji. He also delves into the its' relation to Japanese religion, shrines associated with it, art reflecting Mount Fuji and important figures associated with the Mountain. Numerous woodblock prints by Hokusai relating to the Mountain are reproduced in the plates.
Starr was a collector of the ofuda (talisman/good luck charms) which were available in shrines in Japan. Because of this he was known by the Japanese as Dr. Ofuda and he often used that name himself, as in this book. The caption under his name on the title page reads "Ofuda Hakushi." The ofuda are traditional Shinto religions items (parchments and other items) used for protection from evil spirits.
Title Page: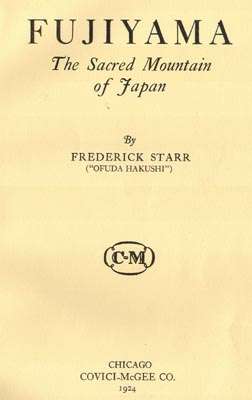 Illustration inside covers onto adjacent free end page.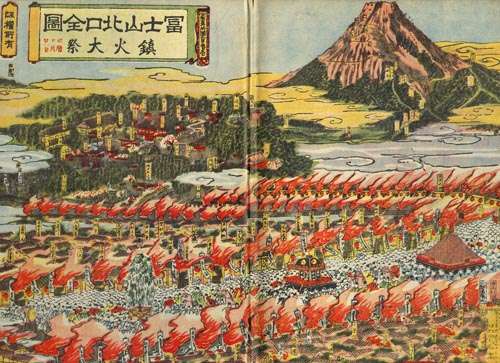 Contents

Chapter                                Page
Preface                                  v
I     The Sacred Mountain                1
II    Detailed    Description:
      Physiology - Geography -
      Geology - Meteorology             10
III   Vegetation                        23
IV    History - Eruptions               30
V     The Ascent of Mount Fuji: 1917    38
VI    The Ascent of Mount Fuji: 1919    50
VII   Ascents                           71
VIII  Mount Fuji in Art                 89
IX    Mount Fuji in Poetry             101
X     Religion                         111
XL    Shrines                          123
XII   Folk-Lore - Popular Fancies 
      and Sayings                      131
XIII  Yoritomo's Hunt                  137
XIV   Names Associated with Mount Fuji 141
XV    Miscellany Odds and Ends         149
      Epilogue                         156
      Glossary                         157

Examples of Plates (black and white halftone):
Frontispiece